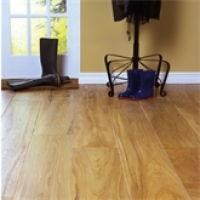 Engineered oak flooring is available in two attractive options.
Sheffield, Yorkshire (PRWEB) October 04, 2012
As a unique alternative to hardwood flooring, JoineryStore is now offering engineered oak flooring for homes. This novel product has a similar appearance to hardwood but is stronger, cheaper and lasts longer. Layers of wood are glued with the grains crisscrossing which is topped by a hardwood veneer. Engineered oak flooring is available in two attractive options. Rustic grade engineered oak maintains the natural anomalies of the wood and is more suited to older homes. Prime grade caters to modern homes; this higher quality wood shows minimal cracks, splits and knots. Both the rustic and prime grade oak flooring is extremely durable. It requires very little cleaning and maintenance, and will not need replacement for many years. It is resistant to changes in temperature and humidity because of the layering design of its grains. This makes the engineered oak flooring ideal for any climate.
Customers who wish to use this innovative flooring in their homes can visit the JoineryStore in person to see samples of the two variants. They are conveniently open from 8 a.m. to 5.30 p.m. between Monday and Friday as well as from 8 a.m. to 1.30 p.m. on Saturday. The other way to get in touch with the company is to contact them via email. They offer to send a small panel section of one or both of the oak flooring variants for a very small fee, including postage. Using these samples, the customer can confirm which option better matches the furniture and overall ambience of their home, and make the right choice. It also lets them appreciate the quality products being used by JoineryStore.
Once the customer is satisfied with the sample and has made up their mind about which option they wish to go with, the professionals at the flooring company will explain the installation process in detail. They are trained in fitting joinery products and their top-quality service will leave the customer amazed at the finish. After the installation is completed, the fitters will dispose of all waste and leave the place neat and tidy.
The JoineryStore staff are friendly and willing to answer any and all queries. The aim is to give the customer the best experience and win their loyalty. This company gets the raw materials for their engineered oak flooring from the best sources. Since it is imported by the container load, these are priced competitively and provide good value for money. Shipping of the bulky, heavy flooring is priced reasonably, but if the customer wishes, they can personally collect the flooring pieces instead of requesting a home delivery.
JoineryStore has many years of experience supplying wooden doors, stair parts, staircase cladding and flooring to residential customers. Anyone who wants to install flooring for their new home or replace existing flooring should avail of the excellent services of JoineryStore. Visitors will be thoroughly impressed and the owners will be proud of their home.