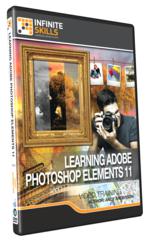 Master Photoshop Elements 11 Quickly
(PRWEB) October 04, 2012
Software training firm InfiniteSkills Inc. last week introduced its Learning Adobe Photoshop Elements 11 Training Tutorial, a coursed designed as an introduction to Adobe's consumer-level photo editor.
Photoshop Elements offers a simplified alternative to the professional level Adobe Photoshop, while still including the essential elements of digital photography. Elements sports an easy-to-use environment and combines its photo editing features with sophisticated organization features, making it a powerful tool for organizing and managing personal photos or family scrapbooks.
Learning Adobe Photoshop Elements 11 Video Tutorial
InfiniteSkills veteran trainer Andy Anderson, a career photographer with decades of experience using Adobe software in his professional practice, brings the practical insight of a creative professional to the course.
Anderson began in photography at age nine, when his father set up his first darkroom. In addition to an abundant professional practice, Anderson has authored 17 books and numerous magazine articles on topics ranging from the Adobe Creative Suite to Final Cut Pro. He remains among the leaders in the industry of digital photography training.
"My training philosophy is to always incorporate creativity with the technical aspects of the program," Anderson says. "I love to remind students that it's your creativity that makes the program your own."
In Learning Adobe Photoshop Elements 11 Training Video, Anderson guides new users through key tools in Adobe Elements such as navigating workspaces, basic selection techniques, cropping and straightening photos, and applying quick fixes. Other tools include controlling exposure, using balance and sharpening tools, and working with brightness, and depth of field.
In addition to explaining the ins and outs of photo editing, including image manipulation and restoration features, Anderson explains how to effectively use the organizer to manage your pictures with chapters covering importing, applying tags and markers, and working with catalogues.
InfiniteSkills' Learning Adobe Photoshop Elements 11 Tutorial provides the essential tools beginners need to enhance the color and detail of their photos using Photoshop Elements. In addition, users will learn to take advantage of the powerful organizer to manage and publish photo collections.
http://www.infiniteskills.com/training/learning-photoshop-elements-11.html
InfiniteSkills offers its Learning Adobe Photoshop Elements 11 Tutorial either as a DVD or a direct download from the company website at a retail price of $99.95. All InfiniteSkills titles and formats are compatible with Mac and Windows operating systems, and shipping is available around the globe. Additionally, InfiniteSkills tutorials are supported by project files which correspond to examples in the videos, allowing users to work alongside their instructors right on their computer or iPad.
About InfiniteSkills Inc.
A leader in the field of software training, InfiniteSkills strives to offer the highest quality training available at an affordable cost. InfiniteSkills tutorials are task-oriented instructional videos, teaching complex skills by providing hands-on examples and guiding users as they carry out critical objectives. InfiniteSkills offers a comprehensive range of software titles available as DVDs, digital downloads, as well as iPad editions—keeping with company aim of delivering professional training to customers anywhere they want to learn.