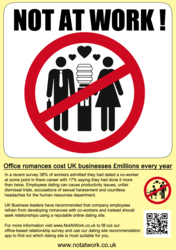 (PRWEB UK) 3 October 2012
No company wants to have to deal with unnecessary and avoidable costs of situations such as sexual harassment, discrimination, health and safety or unfair dismissal claims against the organisation. As well as costing a fortune these actions can harm the reputation of the business and have an impact on the productivity of the staff.
Leading extra-marital affairs website IllicitEncounters.com has commissioned a series of studies and reports investigating the economic impact on businesses caused by affairs within the workplace which is believed to cost British businesses millions of pounds a year.
In a recent survey 38% of workers admitted they had dated a co-worker at some point in their career with 17% saying they had done it more than twice. Employees dating can be costly for a company in a small office environment, it can cause productivity issues and lead to one member of staff having to leave the organisation or in larger firms it can mean transferring workers to different departments, all costing the business time and money.
Another big risk is having an affair to move up the company ladder with 28% of workers admitting they had slept with someone higher up the organisations' hierarchy, this can lead to unfair dismissal trials, accusations of sexual harassment and countless headaches for the human resources department.
Mike Taylor, Spokesperson for IllicitEncounters.com, said "There are some shocking statistics out there for work based affairs and we have barely even begun scratching at the surface. One of the most rampant industries for interoffice relationships is the financial sector with 45% admitting they have partaken in an office based tryst. You can never stop people from developing romantic feelings towards their co-workers which can often lead to a full blown affair. However Illicit Encounters offers a discreet and safe online dating platform for those seeking extra marital romances, allowing workers to focus their attention on their work in their work place. "
Illicit Encounters is the UK market leader with over 700,000 members, which is nearing 5% of the married population. Tribunals in recent years have been speckled with a large number of affairs at work that turned ugly, resulting in bad press for the company and large costs to the business. In fact many UK businesses have even enforced a strictly no affairs at work policy, which brought its way over from the US - named a morality code. IllicitEncounters.com has a large number of members who have decided to cheat online as a result of the negative effects of conducting an affair in the workplace.
For more information contact
PressPr(at)IllicitEncounters.co(dot)uk
Notes to editors
Illicit Encounters® is UK's largest online married dating site with over 700,000 members.
*Statistics taken from a survey conducted of over 7,700 full time workers on behalf of careerBuilder.com