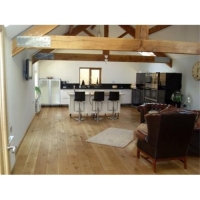 Oak floors require minimal maintenance
(PRWEB) October 09, 2012
Homeowners looking for elegant, yet easy to maintain flooring options for their homes should consider solid wood flooring and in particular, oak. Oak floors have continuously graced homes with fashionable looks at affordable prices. The warm feeling they provide, their scent just after being cleaned, and their impeccable attractive look are some of the good reasons to get oak floors fitted in a home. Another reason why oak is popular as a flooring solution is its durability, which will save money in the long-term. It also does not require frequent staining or protective maintenance, as this can be done after an extended period of time.
For homeowners who frequently refurnish their quarters, oak floors offer a stress-free solution. This is because the wood's minimalism allows for affixing of different tints and furniture. There are many kinds of oak flooring available in the market today including natural dark oak flooring, white oak flooring, and natural oak flooring. Also, oak floors come in basically three styles:
1. Parquet - This flooring design involves fitting together small strips of oak wood that are well shaped to form an attractive geometric pattern. This style can feature either tiles of similar sizes or those of varied sizes (1-6 inches) and shapes.
2. Plank – As the name suggests, this style simply features long, straight oak pieces (3-9 inches) that create a smooth, proportional flooring finish, usually running in a single parallel direction.
3. Strip – This oak flooring design is in many ways similar to plank oak flooring design, only that the wood strips are much smaller in size. This therefore creates the same smooth effect as the plank flooring design while at the same time adding more balance and poise to the general look of a room.
Fortunately, the benefits of getting oak floors fitted in a home apply to all the three flooring styles. This, together with the different kinds of oak wood, gives a homeowner a wide array of options to choose from that will best suit his or her individual style and preference. Below are additional benefits of getting oak floors fitted in a home:

Oak floors have a natural, neat and attractive finish that will remain trendy through time.
They are strong and durable.
Oak floors require minimal maintenance; they will not stain and dirt and spills can be easily wiped away.
There are a wide array of waxes and oils that are available in different shades and hues to give any type of oak flooring an elegant, appealing finish that can compliment the interior décor of any room.
Unlike synthetic carpets, oak floors do not retain dust particles. Simply vacuuming quickly removes all dirt from oak floors.
Oak floors feature a neat, neutral finish that gives the illusion of additional space in a room. They also increase the overall value of a property.
Oak is a natural, non-toxic material, thus providing an eco-friendly flooring solution.