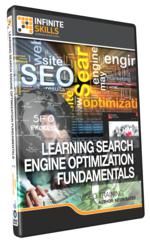 Master the art of SEO
(PRWEB) October 05, 2012
Software training firm InfiniteSkills Inc. last week introduced its Learning Search Engine Optimization Fundamentals Tutorial, a training course designed to help web marketers, bloggers, and content writers, ensure their work reaches maximum visibility on the web.
Search engines like Google or Bing use complex algorithms that scan millions of websites, indexing and then ranking their findings according to certain rules.
With InfinteSkills "Learning Search Engine Optimization Fundamentals Video Training" web content developers can begin use the rules applied by search engines to their advantage, ensuring high search engine visibility for contents or products.
Learning Search Engine Optimization Fundamentals DVD - Video Tutorial
Course author Kevin Bates started his career when he was hired out of high school to develop websites professionally. He later returned to finish college before being hired into the budding industry of web analytics. Currently Bates offers private consultation and instruction for search engine optimization, helping small businesses, bloggers, and developers, grow their audiences on the web.
Starting with the basics, Bates explains how search engines organize the vast amount of content on the web in search results. He then covers important fundamentals for creating web content such as how to use research to understand your audience's motivation, and how to use the technical side of search engine optimization to build a "clean" website that is easily found and read by Google.
From there, Bates goes in depth with implementing optimization strategies that boost website rankings and allow users to measure their results. He explains how to measure the performance of keywords, and how to track the number of conversions into subscriptions or sales using measurement and conversion tools. Other chapters include link building and understanding the effect of social media on search results.
"My course ensures that students get all the tools necessary for creating great content that both Google and readers will love," Bates says. "Search engine optimization ensures that content will not only be high quality but that it stays relevant."
http://www.infiniteskills.com/training/learning-search-engine-optimization-fundamentals.html
InfiniteSkills offers its Learning Search Engine Optimization Fundamentals Training Video either as a DVD or a direct download from the company website at a retail price of $99.95. All InfiniteSkills titles and formats are compatible with Mac and Windows operating systems, and shipping is available around the globe. Additionally, InfiniteSkills tutorials are supported by project files which correspond to examples in the videos, allowing users to work alongside their instructors right on their computer or iPad.
About InfiniteSkills Inc.
A leader in the field of software training, InfiniteSkills strives to offer the highest quality training available at an affordable cost. InfiniteSkills tutorials are task-oriented instructional videos, teaching complex skills by providing hands-on examples and guiding users as they carry out critical objectives. InfiniteSkills offers a comprehensive range of software titles available as DVDs, digital downloads, as well as iPad editions—keeping with company aim of delivering professional training to customers anywhere they want to learn.