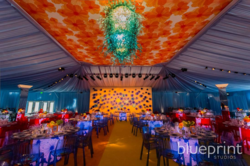 We wanted to push the envelope a bit and depart from more traditional social gala designs with a fresh and spirited atmosphere that evoked the happiness and hopefulness in all of us. - Paul Moss – Designer and Principal at Blueprint Studios
San Francisco, CA (PRWEB) October 02, 2012
Blueprint Studios is excited to announce a successful presentation at the annual Opening Night Gala at the Davies Symphony Hall & SF City Hall on September 19, 2012. Widely considered to be one of the most important social community events for the arts, this event will set the tone for the San Francisco Symphony's 2012 season, their 101st season as a performing orchestra.
From the moment the guests took their first steps into Davies Symphony Hall, and were greeted by giant spinning letters that spelled out "Symphony," they knew this was no ordinary year. There were 1,400 seats available for the Gala, set in City Hall with a specialty tent attached to Davies Symphony Hall, and it turned out to be an opening night to remember.
To highlight the 101st year, the Gala featured a modern stylized setting, which used vivid colors to enhance the environment. "As we enter our 101st ear at the SFS, we want to make a statement to our donors and our community that the San Francisco Symphony is prepared to enter the next century of music with great energy and colorful warmth," said Jennifer Franks, Event Manager at the San Francisco Symphony.
There were noticeable signs all around the Gala that this year was something to behold. With sculptural blown glass installation anchoring the patrons dining room and illuminated glass dining tables, the guests were treated to an unexpected dining experience. Paul Moss, Designer and Principal at Blueprint Studios, explained that "We wanted to push the envelope a bit and depart from more traditional social gala designs with a fresh and spirited atmosphere that evoked the happiness and hopefulness in all of us." Once the Gala came to a close, guests enjoyed an outdoor European Street Festival post concert.
According to Gala attendee, Valerie Ulrich, it was a mission accomplished for Blueprint Studios. "The evening was so lovely. Gosh you did an amazing job. You can be so proud!! Everyone said it was the BEST ever. To me, it was the best I have seen in the years I have lived in San Francisco," Ms Ulrich remarked. After raising the bar in the 101st year, Blueprint Studios can only look forward to coming up with ways to make the 102nd even better.
About the company:
Blueprint Studios is a full service event design and furniture rental firm dedicated to creating exceptional special event environments with thoughtful detail and dedicated customer service. For over a twelve years, their team of designers, production craftsmen and installation managers has established a reputation for providing cutting edge event decor and stylish furnishings for both timeless and modern settings.
For more information, please visit their website at http://www.blueprintstudios.com