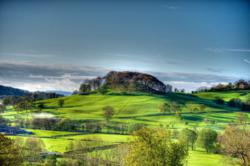 Our new Facebook page is all about sharing
Peak District (PRWEB UK) 3 October 2012
The monster website dedicated to Derbyshire has added new strings to their bow with the arrival of their new Facebook page and other spin off sites highlighting every single Peak District Village in all its glory. As the new websites go live this week, Peak District Online directors offer visitors to their online pages a chance to marvel at what's on and what's previously happened in each local community.
"Mists of mellow fruitfulness is what we're celebrating here at Peak District Online," says Steve Wake, one of the directors of the website attracting over 200,000 unique visitors every month, to what started life as small family run business. "We're really gearing up to towards the most colourful and most beautiful season of them all. We're constantly on the lookout for new information, facts and figures about every Peak District village and we've begun a new journey adding spin off websites to our expanding catalogue, dedicated to the Peak District."
Passionate about the place they live and work, the team at Peak District Online aren't shy about sharing and with the launch of two more websites to their Letsgo portfolio; Ashbourne and Ashford in the Water are two new sites to tickle the taste buds for those who would like to make Derbyshire their holiday destination or even their home.
"Although we adore indulging ourselves here at the offices of PDO, researching all the facts, fun and figures about each place in the Peak District, we also love to hear from our readers and get some valuable feedback," explains James Dobson, director and wildlife photographer. "Our new Facebook page is all about sharing and as we upload our images going back through the events that have happened throughout the year, our aim is always to share it with our loyal clients and customers. It's a new adventure for us as we aim to have the largest collection of photographs online for the Peak National Park, from the Peak District wildlife, villages, and events to the people who live and work here. We would love to get as many comments and likes as we can."
As the weather turns colder and the Derbyshire Dales are transformed into a wonderland of gold and crimson, the team at PDO invite their readers to indulge in a little nostalgia and add input into their new pages.
Find out the news and events as they happen at http://www.peakdistrictonline.co.uk and see their spin off Letsgo sites as they go live.