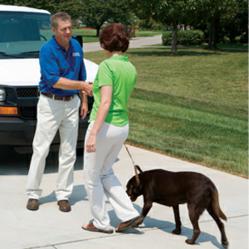 Wilton, CT (PRWEB) October 04, 2012
In an effort to intensify presence in local markets, Canine Company is looking for entrepreneurial animal lovers to become independent dealers in the following areas: Hudson Valley, NY; Long Island, NY; Northwest, NJ; Southern, NJ; and Burlington, VT. Independent dealers of the Invisible Fence® Brand product will have the opportunity to become their own boss with the support of an established and trusted brand.
On average, the aforementioned Invisible Fence® Brand markets produce in excess of $230k per year. Average annual revenue is variable dependent upon the individual location. In addition to the benefit of operating under a well-established brand name, these dealers will have the benefit of starting with an existing base of hundreds of customers. As the proprietor of an Invisible Fence® Brand market, the dealer is responsible for their own staff, sales, installations, trainings, and services in the local community. Assistance with finances, training, health insurance options, and marketing support may be available to the independent dealer.
Established in 1973, Invisible Fence® Brand has dedicated nearly four decades to keeping dogs and cats safe at home. Each independently owned and operated dealership provides reliable and effective ways to protect clients' beloved pets.
This is a rewarding and lucrative opportunity for individuals who possess an entrepreneurial spirit and passion for the safety and well-being of animals. Independent dealership opportunities are available in Hudson Valley, NY; Long Island, NY; Northwest, NJ; Southern, NJ; and Burlington, VT.
For more information on individual markets, or to become an independent dealer, contact Jeff Kelly, Manager New Dealer Development at 1-866-253-4272 or visit us online at http://dealership.caninecompany.com