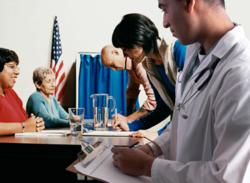 Doctors are eager to know where the candidates stand on healthcare and what will happen to the practice of medicine in the next four years. -- Sandy Garrett, President, Jackson & Coker
Atlanta, GA (PRWEB) October 02, 2012
On the eve of the first Presidential debate, doctors are expressing concerns about patient access to healthcare and inaction on civil justice reform, according to a national physicians survey conducted by Jackson & Coker, a division of Jackson Healthcare, the nation's third largest healthcare staffing company.
The nationwide survey, conducted in late September, specifically asked what the candidates should know about healthcare policy. The doctors' responses primarily surrounded the doctor-patient relationship:

Doctors are concerned about the bureaucratic burden such as regulatory paperwork, pre-certifications, claims filing and governmental red tape so they could spend more time with patients and customize treatment plans.
Physicians, regardless of political persuasion, believe no healthcare reform is complete without tort reform.
Physicians are concerned about patients' access to care under the Affordable Care Act (ACA). The U.S. is already experiencing a physician shortage in many specialties, and it takes months for patients to get appointments in some states. Physicians said they are also spending less time with patients to fit more in a day. They are concerned about treating the addition of 40 million newly-insured patients under the ACA.
Practicing physicians should be involved in the discussion of healthcare reform and the process of improving quality while reducing costs.
Doctors are concerned about the dilemma that reducing healthcare costs will result in a further reduction in reimbursements. They also believe there still needs to be incentives to physicians who bear a significant financial burden in student loans, medical malpractice insurance, and the rising overhead of running a practice.
"Doctors are eager to know where the candidates stand on healthcare and what will happen to the practice of medicine in the next four years," said Sandy Garrett, president of Jackson & Coker. "They are longing for these issues to be addressed during the debates."
Richard L. Jackson, chairman and CEO of Jackson Healthcare, the parent company of Jackson & Coker, said the survey findings are not surprising considering 55 percent of the surveyed doctors would like to "repeal and replace" the ACA while 40 percent said "implement and improve" the law.
"The doctor shortage is very real and already impacts many patients," Jackson said. "Doctors feel enormous pressure to see more patients every day. Everyone agrees our physicians are on the front lines and need to be involved in future healthcare policy. They want the next President to hear their concerns."
To learn more about the survey and read the doctors concerns, go to: http://www.jacksoncoker.com/physician-career-resources/newsletters/monthlymain/des/PresidentialPoll.aspx
For more information, contact Edward McEachern at 800-272-2707 or emceachern(at)jacksoncoker(dot)com.
Survey Methodology
This survey was conducted online from September 11 to September 28, 2012. A total of 3,660 respondents completed the survey. The error range for this survey at the 95 percent confidence level is +/- 1.6 percent.
About Jackson & Coker
Jackson & Coker, a prominent physician staffing firm, believes that all hospitals, clinics, physician practices, and patients should have access to a physician whether for a day, a lifetime, or any of life's changes in between. For over three decades, Jackson & Coker, a leader in locum tenens recruitment, has been uniting physicians and hospitals to ensure that all patients' needs are met by providing physicians for as little as a day and as long as a lifetime. The firm specializes in doctor opportunities for physicians at any stage of their professional career.
Headquartered in metro Atlanta and part of the Jackson Healthcare family of companies, the physician recruitment firm has earned a reputation for placing exceptionally qualified candidates in commercial and government practice opportunities. Recruiters work in two divisions of the company: Permanent placement, which recruits providers in over 40 medical specialties for permanent physician jobs, and locum tenens, a staffing model that recruits medical providers (physicians and CRNAs) for temporary vacancies.