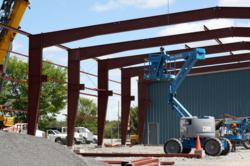 (PRWEB) October 02, 2012
When it comes to operating a business, planning for the future is crucial to success. Inevitably, the future will come knocking and a business owner should be prepared with growth options. If business owners have already examined the expansion possibilities of their existing structure while in the planning phase, they're ahead of the game. By taking a few factors into consideration during the design of a facility, such as location, capacity, and property size, it will be easier to complete a future addition.
Prefab steel buildings are an ideal choice for many reasons, such as easy expansion and faster construction time. Pre-engineered steel buildings vs. stick-built buildings can also cut big bucks off the bottom line. Victor Simmons, Allied Steel's resident expert, offers important tips on expanding pre-engineered metal buildings.
1. Weigh expansion options.
Discuss operating requirements with a Building Services representative. There may be a few design options when deciding where to add the addition. For instance, is it necessary to maintain a common wall between the two structures or will it need to be open? These are important questions to discuss for optimal expansion.
2. Design a pre-engineered building from Allied Steel with an expandable end wall.
It's a great reason to choose a prefabricated metal building, because they can be designed with an expandable end wall. This means owners are able to add length to their structure in a quick and economical way. This is a fantastic feature limited to steel buildings. Don't worry too much if planning wasn't done ahead of time, it's still possible to find an easy and cost-effective way to expand a metal structure.
3. Research similar projects.
To find the best scenario for an addition, research other completed projects with a Building Services Representative. Allied Steel recently designed and supplied an 8,000 sq. ft. addition to a manufacturing facility for Kwik Load Products. The Allied Steel team used tried and tested knowledge to complete the project. The addition was designed with an open end wall, just slightly taller than the existing structure. The end walls of each building were joined, this was possible because the new building was designed to support additional load from drifting snow. Allied Steel also provided a partially sheeted end wall with roof-to-wall flashing, resulting in a weather-tight connection
About Allied Steel: Allied Steel Buildings is a leading supplier of pre-engineered steel buildings and prefabricated metal buildings systems. Allied Steel Buildings offers exceptional prefab metal structures with outstanding customer service, committed to assisting you through each step of the process. Our projects have been completed around the world, with a concentration in the USA, Canada and Island Nations. Allied Steel Buildings is ready to assist with your expansion effort today! For assistance from our Project Managers, including design services and more expert tips call 877-997-8335.