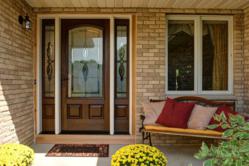 Maumee, OH (PRWEB) October 03, 2012
Dozens of times each year the team at Ratzlaff Homes sells and installs fiberglass entry doors. What's the secret to their success? According to project coordinator Jon Hassenfritz, it's aligning with a quality door manufacturer, communicating effectively with homeowners and making sure their installation crews are efficient and knowledgeable.
"In our geographic area, homeowners are concerned about energy efficiency, long-term ease of maintenance and creating curb appeal," says Hassenfritz, whose company is based in Lakeville, MN. "We get rough winters here and an entry door has to be able to withstand everything from sub-zero temperatures to blowing snow drifts."
Selling Fiberglass Doors
For a majority of its replacement and new construction work, the team at Ratzlaff Homes recommends fiberglass entry doors from Therma-Tru. "The durability and quality of these doors is easy to sell to homeowners," says Hassenfritz. "The solid doors are up to four times more energy efficient than solid wood doors. And, when adding in decorative glass or privacy doorlites and sidelites, they come with triple-paned glass to protect the decorative elements."
For one recent door replacement project in Lakeville, Hassenfritz met with a family that had a long list of needs for a replacement entryway. "Their original steel door was cumbersome with its storm door and small decorative glass sidelites," says Hassenfritz. "They wanted to add more light flow into the home, gain a new style for their door and get rid of the storm door. At the same time, they wanted to increase the energy efficiency in the home.
"Fiberglass was an easy sell for them because they'd endured the heartache of steel doors and they were ready to upgrade to a product that would be more long-lasting. After reviewing all the options, they selected an elegant prefinished Therma-Tru® Classic-Craft® Mahogany Collection™ door with the look of high-grade wood, but made of fiberglass, which resists denting, scratching and rusting. For the doorlites and sidelites they chose the Longford™ glass that replicates a design from Gaelic heritage with granite field glass and seeded glass. This combination gave them an impressive new look for their entryway and met their low-maintenance needs."
Installing Fiberglass Doors
Following the door selection process, Hassenfritz visited the home to review the opening and prepare a bid. As with all door replacement projects, his estimate included the removal of the existing door, casing and storm door. The bid also detailed out the installation of the front door assembly, the addition of insulation and vapor barriers, and the installation and staining of casing and mull strips on and around the door.
"Preparing a step-by-step written estimate really helps the homeowner see and understand exactly what will happen in the door installation process," says Hassenfritz. "We find this clearly lays out the project expectations and gets everyone on the same page with what's going to happen. Outlining the projected timeframe from start to finish for the project also helps the homeowner understand what's involved."
For the entryway replacement in Lakeville, two experienced installers from Ratzlaff Homes arrived at 8am to remove the existing entryway and prep the opening for the new door. By 10am the old door was out, the opening was prepped and the new fiberglass entryway was being fit in place.
"We're focused on cleanly and efficiently doing door replacements to cause as few headaches to the homeowner as possible," says Hassenfritz. "That means putting down drop clothes, bringing our vacuums on site to clean up as we go and getting the hole filled in on the front of their home as quickly as possible."
With the project completed in just four hours, the final steps for a successful install involve the Ratzlaff Homes team doing a "walk through" of the finished project with the homeowner. The installers finish the trim work, clean the area and then demonstrate the door operations with the homeowner.
"People love getting new entry doors because it's such a fast and visible improvement to the home," says Hassenfritz. "When they woke up this morning, there was air leaking into the home through an old door. When they go to bed that night, they have a new energy-efficient door that changes the style and feel of the interior and exterior of the home. By communicating every step of the way with the homeowners, we're setting ourselves up for success with each door replacement project we complete."
###
About Therma-Tru
Therma-Tru is the nation's leading manufacturer and most preferred brand of entryway doors. Founded in 1962, Therma-Tru pioneered the fiberglass entry door industry, and today offers a complete portfolio of entry and patio door system solutions, including decorative glass doorlites, sidelites and transoms, and door components. The company also offers low-maintenance Fypon® urethane and PVC products. Headquartered in Maumee, Ohio, Therma-Tru is part of Fortune Brands Home & Security (NYSE: FBHS). For more information, visit http://www.thermatru.com, http://www.fypon.com or call (800) 537-8827.
Step-by-Step Images: 100+ images are available of this project, including step-by-step installation and before and after images. Contact Kathy Ziprik at kziprik(at)aol(dot)com or 828-890-8065 for access to images.