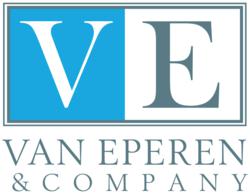 "We are thrilled to welcome someone of Nancy's caliber to the growing VE & Co. team to support our internal and client-related creative projects,"
Rockville, MD (PRWEB) October 04, 2012
Van Eperen & Company (VE & Co.), http://www.veandco.com, an award-winning communications consulting firm in Rockville, Md., is pleased to announce that Nancy Zombolas, a seasoned graphic designer and print production manager, has joined the company as Operations and Marketing Manager. Zombolas specializes in logo design, brand identity, production and print management.
Zombolas joins VE & Co. after more than 30 years with the City of Rockville. As the graphics and printing supervisor with the City, Zombolas had the lead role managing the design and production of print materials. In addition, she managed all operational, strategic, financial, staffing and administrative functions within the division.
During her time with the City of Rockville, Zombolas served on the Communication Team to coordinate, strategize, promote and market all of the municipality's programs. Zombolas also played a key role rolling out and guiding the appropriate usage of the City's new brand in 2011 by managing the design of all the stationary materials, creating the style sheets for postcards, newsletters, fliers, posters, and other related items.
An award-winning graphic designer, Zombolas has received the City-County Communications and Marketing Association's Savvy Award for Best Citizen Newsletter, Maryland Recreation and Parks Association's Marketing and Promotional Award for Best Program Guide and numerous other design and communication awards.
"We are thrilled to welcome someone of Nancy's caliber to the growing VE & Co. team to support our internal and client-related creative projects," said Laura Van Eperen, CEO, Van Eperen & Company. "She brings a diverse skill set that complements our portfolio of communications consulting services."
Van Eperen & Company proudly serves public and private sector clients with strategic communications planning, public education and awareness campaigns, leadership visibility and positioning, brand reputation development and management, media outreach, and digital media services.
About Van Eperen & Company: Van Eperen & Company is an award-winning strategic communications consulting firm. As a woman-owned MBE and MDOT-certified business, VE & Co. is authorized to provide professional services to the government through the GSA schedule. Founded in 2004 to deliver exceptional results to clients, the company holds steadfast to its commitment to exceed client expectations, while keeping ethics and social responsibility at the forefront of every endeavor. For more information, call 301-836-1516 or visit http://www.veandco.com.
###