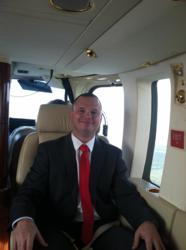 Cleveland, OH (PRWEB) October 03, 2012
A recent article from MarketingProfs got Roger Bryan, an entrepreneur and internet marketing whiz, thinking about how he uses social tactics to make his business thrive. As he agrees with the article, Bryan thought it was important to share and promote the small business ideas seen in "Five Social Lessons for Small Business from Big Business", which was posted Monday October 1.
The first key social lesson the article details is the "start with the end in mind" philosophy, which has been crucial to Bryan's business success. As establishing a brand can help with long-term business goals, this must be part of a business mindset that will let entrepreneurs like Roger Bryan find the success they long for. Through his business coaching and internet marketing endeavors, Bryan always talks about the importance of starting with the end in mind, and how this can make a world of difference for small business owners.
The article next discusses the important of creating publications, such as blog posts or other internet content. As a published author, Roger Bryan can vouch that creating a publication not only gets a buzz going about the functions of a business, but also establishes a brand in the process. By engaging with those interested in internet marketing services through the publication of eBooks, Roger Bryan has seen that other small business owners could benefit from this experience as well.
To learn more about Roger Bryan, as well as his business coaching and internet marketing work, he can be found on social media platforms, and encourages anyone who wants more information to contact him via LinkedIn: http://www.linkedin.com/in/rogercbryan
About Roger Bryan:
Roger Bryan is the founder and president of internet marketing and business coaching firm, RCBryan and Associates, and has also made his mark through his work with non-profits. Roger has been seen in CBS News, Yahoo News and many other media outlets, and his previous startup was listed on the Inc. Magazine list of the fastest growing companies in America.