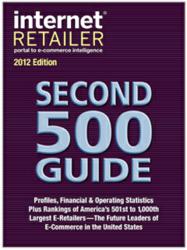 WaterFilters.NET's rank shows consistent business growth again this year.
Zumbrota, Minnesota (PRWEB) October 03, 2012
WaterFilters.NET, the leading online supplier of water filters, ranked #502 in Internet Retailer Magazine's "Second 500," an authoritative listing of rapidly growing internet retailers. WaterFilters.NET's rank shows consistent business growth again this year.
Ranking in the "Second 500" demonstrates WaterFilters.NET's great potential for continued expansion and market dominance. Described as the "Who's Who of Up and Comers" in eCommerce, the 2012 Internet Retailer "Second 500" Guide ranks, profiles and analyzes 500 fast-growing, up-and-coming e-retailers based on annual web sales. The "Second 500" Guide itself is an indispensable research tool for identifying who the next generation leaders in web retailing are. The "Second 500" helps benchmark various businesses, as they grow and become the industry's best and brightest internet retailers. The guide is packed with financial and operational data on each of the retail websites in the U.S, ranked from 501 to 1000.
Rankings are based on full-year online sales. Other data includes: past years' sales, growth rate, monthly visits, monthly unique visitors, conversion rates, average ticket, total SKUs, top executives, website performance, vendor providers of technology and services in 26 categories, and more.
Internet Retailer Magazine, published by Vertical Web Media, remains the largest monthly magazine in eCommerce with over 44,000 subscribers. Vertical Web Media is a privately held company based in Chicago that focuses on providing business intelligence for the eCommerce market. Starting with one magazine, VWM has since started a dozen other information products aimed at this market and is now the largest publisher in the internet retail field.
WaterFilters.NET wishes to thank all customers, employees, Internet Retailer Magazine team members, and fans of clean drinking water that made this achievement possible.
WaterFilters.NET is the leading online water filter superstore. Winner of the BBB Integrity Award, the STELLAService Award, and a Best Places to Work Winner, WaterFilters.NET is committed to healthy, safe drinking water and excellent prices, products, and service.