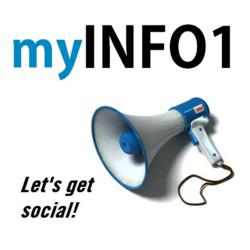 MyInfo1.com would enjoy all client reviews on any social network.
Denver, CO (PRWEB) October 03, 2012
MyInfo1.com is a top source for customer service regarding public record searches, background checks, driver's license status and vehicle history reports. The website has recently joined social media networks in order to connect with their client base.
Facebook is the place for businesses and clients to connect. With their new page, MyInfo1.com Facebook updates include blog posts, company news, and fun video updates. MyInfo1.com appreciates any customer feedback via a comment on their timeline or private message.
MyInfo1.com also joined Twitter in an effort to connect with their always-on-the-go customers. Twitter, the speedy 160-character social network, is a great way for clients to share their quick reviews or concerns with MyInfo1.com customer service in real time.
Finally, the newest social media network, Google Plus provides a new territory for MyInfo1.com to link up with their techy customer base. The MyInfo1.com Google Plus account allows users to leave comments and keeps them up-to-date on company happenings.
MyInfo1.com would enjoy all client reviews on any social network. The company appreciates all forms of feedback, good or bad, and honestly wants to hear every concern. Reply to @MyInfo_1, comment on Facebook, or hangout with MyInfo1.com on Google Plus today!
About MyInfo1.com:
Thousands of warrant checks, public record checks, vehicle history reports and employment searches are conducted through MyInfo1.com daily. For more information on this customer service website, visit MyInfo1.com, call 1-800-214-3271, or contact the Customer Service Manager at josh(at)myinfo1(dot)com.