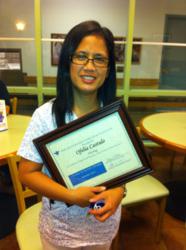 Riverdale, N.Y. (PRWEB) October 03, 2012
Bon Secours New York Health System's Schervier Nursing Care Center is proud to announce that Ofelia Castulo is the September 2012 "Values in Action" award winner.
The prestigious award embodies the core values of Schervier and is awarded to employees who consistently provide excellent service to residents and the community, and often go above and beyond the call of duty. Ofelia, a nurse at Schervier on the evening shift for over 22 years, was selected for the award based on nominations from her peers.
"As a valued nurse and team player, Ofelia continuously demonstrates extraordinary dedication to both our residents and staff by offering a helping hand to anyone in need," said Olivia Babol-Ibe, Director of Nursing at Schervier Nursing Care Center. "Her excellence and passion shows in everything she does, including the quality of care consistently provided to our residents, her keen ability to diffuse challenging situations, and the compassionate support she gives to residents and their families. Ofelia is well-deserving of this award, and is a wonderful example of how each of us is called to joyfully live the mission and core values of the Sisters of Bon Secours."
The Values in Action award is given monthly to a staff member who demonstrates superior care and a high level of service towards Schervier residents. A Values in Action award ceremony was held on Thursday, September 27, 2012, to honor Castulo and celebrate her accomplishments. Stephen Kazanjian, Director of Mission, presented Castulo with a certificate of excellence and a VIP parking spot for a month. Castulo currently resides in Bergenfield, NJ.
About Bon Secours New York Health System
Bon Secours New York Health System is part of Bon Secours Health System Inc., a not-for-profit Catholic health system headquartered in Marriottsville, Md.
Schervier Nursing Care Center is located in the Riverdale section of The Bronx, and is part of Bon Secours New York Health System, whose mission is to bring compassion to health care and to be "good help to those in need." Bon Secours New York's mission is carried out through the services and programs of Schervier Nursing Care Center, Schervier Short-Term Rehabilitation in Riverdale, Schervier Respite Care, Schervier Center for Alzheimer's and Dementia Care, Schervier Home Care, Schervier Cardio/Pulmonary Sub-Acute Care, the Bon Secours Center for Research in Geriatric Care and the Schervier Apartments. Information about Schervier and Bon Secours New York may be obtained from the Business Development Department at 2975 Independence Avenue in Riverdale, by calling (718) 548-1700, and at http://www.scherviercares.org.
###