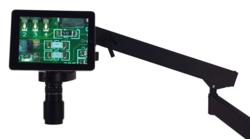 With a price tag below $5,000, they are the most affordable digital microscopes currently on the market
Fremont, CA (PRWEB) October 02, 2012
JH Technologies, a distributor of optical and digital imaging systems, unveiled a new line of digital microscopes on Monday that makes inspection and quality control as simple as snapping photos on a smart phone.
EZCheck digital microscopes feature an easy-to-use interface and touch-screen display that allow users to capture high-resolution images and HD-quality video and transfer them to a network or another user without sitting down at a computer. And with a magnification range from 2X to 270X—plus a price of less than $5,000—the EZCheck line is ideal for a wide range of industrial applications, from ensuring quality control in medical device assembly to inspecting soldered joints in circuit board manufacturing.
"Our new EZCheck digital microscopes make it as easy as using your smart phone to take high-quality video and photos, and you don't need a computer to upload the images—just point and shoot," said John Hubacz, CEO of JH Technologies. "With a price tag below $5,000, they are the most affordable digital microscopes currently on the market."
In addition to inspection and quality control, EZCheck microscopes are well-suited for creating training videos, flexible enough to be set up anywhere on the factory floor and include output to large screens, making collaboration easy. And the user-friendly tablet operating system can be configured for use in multiple languages.
JH Technologies encourages anyone interested in EZCheck microscopes to take advantage of a free on-site demonstration offer.
About JH Technologies
JH Technologies is a major national optics and microscopy dealer with 25 years of experience in optical and digital imaging for applications in semiconductor, solar cell, micro-technology, medical device, forensic, and educational markets. Recently, JH Technologies has expanded its reach to include the Pacific North West and New England markets. Additionally, more than half of JH Technologies' business comes from the life science research market where they serve some of the largest research organizations, medical institutions, and biotech and pharmaceutical companies in the country. JH Technologies sales staff consists of engineers and scientists who are dedicated to providing the most appropriate solutions for their customer's unique problems. The sales staff is supported by an outstanding group of factory trained applications experts and service engineers. Visit http://www.JHTechnologies.com to learn more about the solutions JH Technologies can provide.