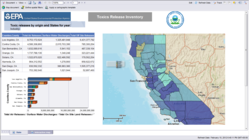 New York City, NY (PRWEB) October 03, 2012
The leading Location Analytics solution provider, Galigeo, has announced the launch of Webigeo for local government, an advanced Location Intelligence and BI visualization software solution to assist public sector in making complex location-dependent business decisions by representing and displaying comprehensive business intelligence data on maps.
Geographical information is an important component in any government policy or delivery of government service and in particular in the areas of public health, transport, education, and program funding. For this reason many state and local governments leverage Galigeo's location intelligence solution to exploit the geographic dimension available in the reporting environment of their business intelligence system. To illustrate consider the example from the European Commission - Mobility and Transport Department:
Early 2011, the Mobility and Transport Department of the European Commission which is in charge of developing transport policies for the European Union sought to improve data analysis, visualization and reporting to gain insight and better monitor the air traffic policy. To achieve this goal, they have implemented a location intelligence tool capable of exploiting the geographic dimension available in the Informational Core for Aviation Related Extractions System (ICARE), which is responsible for holding information regarding flight schedules. The implementation of the Galigeo solution has provided an innovative way to view and analyze information related to the planning and reviewing the European air transport policies.
Galigeo empowers the public sector to extend standard database and Business Intelligence capabilities with visual geographical dimensions that enhances data visualization, reporting and predictive analytics. Galigeo is the only location intelligence software capable of integrating geo-spatial and business data of all types (transactional, operational, analytical and aggregated) from small or large databases and systems of record.
More specifically, Galigeo helps local governments to:

Gain a better understanding of the jurisdictional territory and the activities within the territory
Build and consult operational and strategic dashboards
Visualize key performance indicators and measure activities
Evaluate the impact of public policies through various data analysis
Widely known for its interactive map viewer and its ability to easily connect various business intelligence tools such as ArcGIS from Esri, Galigeo location intelligence software is ideally suited for integration into enterprise business intelligence applications, such as SAP Business Objects, IBM Cognos, Information builders WebFOCUS Information builders, and Microsoft BI.
About Galigeo
Galigeo provides innovative location intelligence solutions for superior business analytics. Galigeo software connects directly to enterprise applications, maps large-scale datasets and applies spatial processing to enhance data visualization, reporting and predictive analytics. Galigeo is trusted by some of the world's largest companies and governmental organizations. Among its clients are: the State of New Jersey, the State of Massachusetts, The European Commission, the State of Illinois, the Geneva Police department, the French Delinquency Observatory, the French Forest Service, and the Belgian Social Integration department, to name but a few.
For more information about Galigeo, please visit Galigeo's web site.