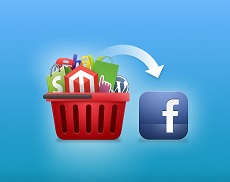 Using StoreYa's deep level technology, Facebook can automatically import any eCommerce store, and have an enormous catalog containing millions of products.
Tel Aviv, Israel (PRWEB) October 03, 2012
Facebook's gift shop launch was only a matter of time.
If anyone can socially recommend you what to buy, and reminds you who to buy it for, it is with no doubt, Facebook.
Furthermore, recent researches show that while only 4% have tried purchasing on Facebook, 40% would like to try such an experience. Launching a gift shop for products worth up to $50, would enable such users to 'test the water' with relatively low risk, and provide Facebook with the commerce credibility it now seeks. The Facebook gift shop will surely have an amazing traction, and the effect on its stock price should be robust.
"Fifty Dollar deals sound like a small portion of the eCommerce market", says Yariv Dror, StoreYa.com CEO, "but our numbers show, that 57% of the millions of products that have been imported to Facebook using our platform match this figure of $50 and below. Without irritating large online commerce companies like Amazon ($113B Market Cap) and eBay ($62B Market Cap), Facebook is actually taking a nice bite from their market, and considering its annual $1B profits from ads, this is certainly a market it needs to be in" adds Dror.
Now, what if Facebook could automatically import any eCommerce store from any major eCommerce platform? This would provide the traction of Facebook's gift shop with a catalog containing millions of products.
"This can be done today", says Dror, "StoreYa has recently launched its expanded solution which makes our company the only proud provider of the unique patent pending technology that runs a seamless 3 clicks automatic import and sync process for thousands of stores based on ALL of the major eCommerce platforms: Magento, Shopify, PrestaShop, eBay, Amazon and WP commerce; any other store could be imported using a Google Base Feed. Our technology could provide Facebook's gift shop with a varied catalog of products from day one as the majority of the products imported by StoreYa would fit right in. Actually, those products are already being sold virally on Facebook" says Dror. "The rest of the products could wait until Facebook's next move towards taking a bite out of Amazon."
StoreYa is a leading Facebook-commerce platform automatically importing onto Facebook web stores from all major eCommerce platforms (Magento, PrestaShop, Shopify, eBay, WP Commerce, Amazon, Google Base), having them fully customized (brand's look & feel, logo, language, currency) and synced. StoreYa also provides its merchants with engagement and gamification tools to help them attract more fans and convert them into paying customers, as can be seen in this short video - https://vimeo.com/48532142.
For any inquiry, contact:
Eyal Reich
Eyal (at) StoreYa (dot) com
+972-54-634-0478