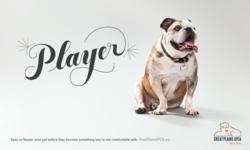 Purposely humorous, we aspired to find a little truth in the way animals act that aren't spayed or neutered.
Kansas City, MO (PRWEB) October 02, 2012
Humorous, edgy new creative work by Meers Advertising continues to launch this week for Great Plains SPCA. The new campaign will build awareness of Great Plains SPCA's programs and services, spotlighting Adoptions and Spay/Neuter services. The campaign aims to make the Kansas City community laugh yet learn the benefits of the comprehensive services that Great Plains SPCA provides to the community.
This is the first major campaign since the launch of Great Plains SPCA's new name. The nonprofit, no kill animal shelter formerly known as Heartland SPCA is taking this opportunity to build awareness and educate consumers of its program and services.
The integrated campaign includes television commercials, print advertisements, online and guerilla marketing. The first TV commercial, called "Dirty Laundry," takes a fairly common occurrence for pet owners, humping, and creates an educational opportunity about spay/neuter services and Great Plains SPCA.
A series of print ads featuring either a dog or cat with the label "Player," "Floozy," "Skank" and "Sleaze" in need of spay/neuter procedures are meant to capture readers' attentions. Meers Advertising and Great Plains SPCA volunteers will blanket the Kansas City Metro with guerilla marketing efforts involving flyers for Lost Pets, only these pets have "lost" testicles and ovaries, not their way home.
"The campaign provides a completely different way of thinking about spaying and neutering pets. It's a community-wide issue, that results in pet overpopulation and poor pet health for animals," said David Thornhill, Meers Creative Director. "Purposely humorous, we aspired to find a little truth in the way animals act that aren't spayed or neutered."
The stars of the new campaign were cast through Great Plains SPCA's Facebook page. Many pets came to Ron Berg Photo's studio, photographer for both the print and video work, for a professional photo session. A select group of local dogs and cats will now be starring in the campaign over the next six months. The spay/neuter messages have launched first, and adoption messages will start airing/running before the end of the year.
"Spaying or neutering pets helps to ensure they live longer, healthier and happier lives," said Courtney Thomas, Great Plains SPCA's President & CEO. "It is the single most effective way to reduce pet overpopulation, decrease shelter intake and help eliminate euthanasia in our community. Great Plains is very grateful to both Meers Advertising and to Ron Berg for generously donating time and talent for this new cutting-edge campaign."
About Meers
Founded in 1993, Meers is a national full-service digital marketing and advertising agency headquartered in Kansas City, Missouri. The agency works to advance clients' businesses by helping them solve marketing challenges through relevant, engaging and compelling communications. Meers works with Armed Forces Bank, Academy Bank, Missouri Gas Energy, Kauffman Center for the Performing Arts, several Blue Cross and Blue Shield plans, and others. For the second consecutive year, Meers was named as the fastest growing Kansas City private company in 2012 by Inc. Magazine's "Inc. 5000." In July 2012, Meers was recognized as "Kansas City's Top Company" by KC Business Magazine. Meers is a member of the 4As. For more information about Meers Advertising, please visit http://www.meers.com. Follow/find us on Twitter at @meerskc.
About Great Plains SPCA
Great Plains SPCA is the Kansas City Metro's most comprehensive resource for pets and their human companions, serving more than 20,000 pets annually - more than any other animal welfare agency in the area. Great Plains SPCA, a no kill shelter, works to save, protect and improve the lives of animals, while strengthening the relationship between pets and their human companions by providing humane sheltering, adoptions, and affordable spay/neuter and veterinary wellness services. Great Plains SPCA is a 501(c)(3) non-profit organization. For more information, please visit GreatPlainsSPCA.org.