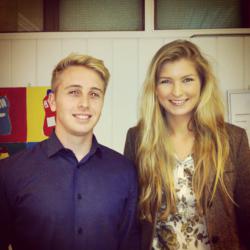 London, UK (PRWEB UK) 4 October 2012
The world-renowned sports nutrition company Bio-Synergy is expanding and bringing two bright young graduates into the company.
Laura Wilson will be stepping in as Executive Director of Sales, and Jacques Viljoen will assume the role of PR & Marketing Director effective immediately.
"I'm absolutely delighted to have these two bright stars join our expanding group of dynamic staff," said Daniel Herman, MD of Bio-Synergy. "It's truly a watershed moment for the firm."
Ms. Wilson is a recent graduate from Newcastle University with a degree in Marketing and Management. She is a very keen sportswoman, captaining her University team and competing at a national level in Netball. Her love for sport combined with the knowledge and expertise she has gained from her marketing degree has motivated her to pursue a career in sports-marketing with Bio-Synergy.
"I'm extremely excited to launch my career in sports marketing with such a highly regarded company," said Ms. Wilson.
Mr. Viljoen, who has joined Bio-Synergy from a Branding and Communications internship at a well-known charity, hails from Cape Town, South Africa. As a graduate with a first in Fine Art, he's joined Bio-Synergy to share his expertise as a number 1 ranked fencing athlete in South Africa. Injury kept Mr. Viljoen out of the London Games, so he moved to the UK in order to prepare for the Rio 2016 Olympic Games while working in the sports-nutrition sector.
"This is an opportunity that I've always been looking for," said Mr. Viljoen. "It's an incredible chance to combine my expertise in sport with my extensive background in communications."
The fresh perspective that these two graduates will bring to Bio-Synergy is the first step in expanding and implementing the company's new branding and marketing strategies as it aims to achieve its goal of becoming the world's number one sports nutrition company.