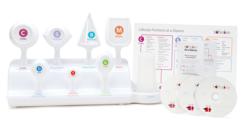 The secret to weight loss is not WHAT you eat but HOW MUCH you eat.
Los Angeles, CA (PRWEB) October 04, 2012
The holidays are a time of parties and food. We spend the end of the year overindulging in high fat, high sugar foods. There is nothing wrong with that. But in January we wake up with a major food hangover and an extra 10-20 pounds. But what if you could enjoy the holiday season without worrying about what you are eating and actually LOSE weight? That's what the creators of Lifesize, an easy-to-follow weight loss system believe. Lifesize took the idea of portion control and ran with it in a brand new way making it the first weight loss program entirely based on portion control.
"The secret to our system is that we designed the perfect portions for ALL the foods we love to eat," "says Lifesize co-creator, Myles Berkowitz. "The Lifesize portions are big enough to leave people satisfied so they don't walk around feeling hungry, but they are small enough so that people will lose weight."
After years of research and development, Lifesize launched earlier this year with a sell-out segment on HSN and was recently featured in the New York Times, The Huffington Post, CBS News and local Los Angeles television news.
Lifesize portions are different from, and most times bigger than, the portion sizes recommended by many diet experts. The portions were created by Hollywood trainer, Steven Kates, based on 20 years of observing the amounts of food people without weight problems ate. He found that how they stayed thin was that they ate whatever they wanted but simply ate less of it. Steven then created food portions that were practical that people can live with for life. His Lifesize portions are the same for men and women.
A recent study done on Lifesize at Colorado State University proved that Lifesize food portions program works. The study found that even if a person ate whatever he or she wanted, and ate unlimited FREE FOODS (fruits/vegetables) allowed on the program, following the portion guide, they cut between 400 – 500 calories a day from their diet and also decreased the amount of food they ate during the day. In addition to losing weight, the study participants found they lost a significant amount of inches from their waist, hips, thighs, and arms.
Berkowitz and Kates developed Lifesize after Berkowitz needed to lose weight and turned to Kates for help. Kates told him something he found hard to believe – it's not what you eat, it's how much you eat, period. Kates told Berkowitz to eat all his favorite foods: ribs, hamburgers, pizza – but to eat less of them.
Berkowitz was unconvinced but took note of the portion sizes Kates showed him using his own hands as a way to measure. Thinking he might be right, Berkowitz and his wife made clay bowls based on the portion sizes. The bowls were marked "M" for meat, "C" for carbs, "D" for dairy, etc. Soon, following the new portion control guidelines Berkowitz found his energy level was up and his excess weight started coming off. He ultimately lost 46 pounds and has kept if off for five years.
In creating Lifesize, Berkowitz and Kates studied weight loss research from major universities, consulted with doctors and nutritionists and tested their theories on hundreds of people to come up with a weight loss program strictly based on using the Lifesize portions for portion control. They also designed unusual, yet easy-to-use tools for people to measure out the Lifesize portions of food every time they eat, just like Berkowitz did with his clay bowls. No weighing, visualizing, memorizing or guessing.
Finally, they created a complete 5-Step Program to teach people how to portion their food at home or on the fly, and at any meal on any day. The program focuses on:

How to portion all their food at home and on the fly
How many times to eat in a day
How many Lifesize portions to eat in a meal
How many Lifesize portions to eat in a day
How to handle different meals like a Sunday brunch, or a business dinner
How to exercise
How to use water, snacks and FREE FOODS to stay on track
Dr. Tsz Ying Lee, an internal medicine specialist in Los Angeles who also runs a weight management business, has a Lifesize kit in her office and recommends the system to patients. As a consultant to Lifesize she is not paid by the company. "Lifesize is a system that makes you think. This is a great way to realistically see what your portion of steak or pasta looks like. With Lifesize, it becomes a no-brainer."
Dr. Joel Isackson, Clinical Assistant Professor of Medicine at the David Geffen School of Medicine at UCLA, concurs. "Every day I discuss weight control methods with patients because of their health problems related to obesity. The Lifesize tools give patients the means to easily practice portion control correctly. The Lifesize Program is easy for my patients to understand and follow, is a responsible strategy for losing weight and maintaining that weight loss, and encourages lifelong healthy eating habits."
Currently Lifesize is available for purchase online, http://www.LifesizePortions.com for $79.99, plus shipping and handling. The company is looking to expand to retail outlets in 2013. To view videos, and learn more about the Lifesize system, go to their website, http://www.LifesizePortions.com.
FOR MORE INFORMATION, TO SCHEDULE AN INTERVIEW WITH MYLES AND STEVEN, AND TO REQUEST A LIFESIZE KIT FOR REVIEW, CONTACT:
Trina Kaye – The Trina Kaye Organization
310-915-0970 / TrinaKaye(at)tkopr(dot)com
Steven Kates has been at the epicenter of LA's fitness and personal training industry for the past 30 years. He designed and operated the first chain of Nautilus work-out centers located in Los Angeles, Beverly Hills and Hollywood. Additionally, Steven was a critical part of the group that gave birth to and commercialized aerobics, spinning, and personal training. Steven also received a biology degree from UCLA.
Myles Berkowitz is a filmmaker with over 30 years of experience in the film and television industry as a writer, actor, director and producer. He has developed and produced television and film projects for such companies as Warner Brothers, Sony, CBS, ABC, and The Henson Company. His film 20 Dates won the Slamdance Film Festival and was bought and released worldwide by Fox Searchlight. 20 Dates was a technological breakthrough - the first movie to be shot digitally. Myles graduated with a degree in political science from the University of Pennsylvania and studied marketing at the Wharton School of Busines