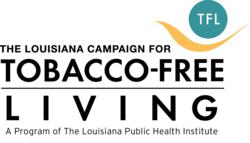 This is a critical public health issue and the time is right to address it.
New Orleans, LA (PRWEB) October 02, 2012
The Louisiana Campaign for Tobacco-Free Living (TFL) recently presented significant research findings concluding that the Louisiana Smoke-Free Air Act (Act 815) had no impact on employment rates in the state's hospitality industry.
Employment data used in the analysis were collected from the Louisiana Department of Labor (LADOL) in two industry categories – (1) accommodation and (2) food service and drinking places – between January 1, 2002 and June 30, 2011. The LADOL publishes monthly data of employment figures based on quarterly tax returns from all employers covered by unemployment insurance. Results from the statistical analysis demonstrate that the impact of the Smoke-Free Air Act on accommodation, food service, and drinking places employment was not statistically significant. The Smoke-Free Air Act did not decrease employment in the hospitality industry. The average employment in accommodation, food service, and drinking places was approximately 160,000 per month across the study period – unaffected by the 2007 law.
The implementation of smoke-free air laws has been a highly contested issue in the state of Louisiana due to fears of adverse effects on revenue and loss of employment in the hospitality industry. In response to such fears, the Smoke-Free Air Act exempted bars, nightclubs, and gaming facilities from its regulatory demand. However, the results of the current study in Louisiana – supplemented and corroborated by many similar analyses in other states and metropolitan areas – strengthens the conclusion that expanding the reach of the Smoke-Free Air Act to bars and nightclubs will have no impact on employment in these venues.
"Alexandria took this step last year by implementing a city-wide smoke-free ordinance and it is our hope that the state and other communities will see their success and follow suit," said Jennifer Gilchrist, Regional Manager, Alexandria, for TFL.
The Alexandria smoke-free ordinance, voted on and passed unanimously by the Alexandria City Council October 4th, 2011, ensures that all employees are protected from the dangerous health effects of secondhand smoke in the workplace; bartenders, gaming establishment employees, and entertainers. It went into effect January 2, 2012, making it the first city in Louisiana to pass such a measure. Alexandria now leads the way for the rest of the state in ensuring protection for bar and gaming-establishment employees who continue to be exposed to secondhand smoke.
"This is a critical public health issue and the time is right to address it," said Tonia Moore, Associate Director of TFL. "Bar and casino employees involuntarily inhale enough secondhand smoke every day to suffer some of the same negative health effects of pack-a-day smokers and prolonged exposure can damage performers' vocal chords or shut them down entirely."
The Louisiana Campaign for Tobacco-Free Living
The Louisiana Campaign for Tobacco-Free Living (TFL) and the Louisiana Department of Health and Hospitals Tobacco Control Program (LTCP) coordinate their efforts in tobacco prevention and control by providing statewide coordination of existing tobacco control initiatives, funding innovative community programs for tobacco control, offering services for people who are ready to quit and developing statewide media campaigns to help reduce the excessive burden of tobacco use on the state's resources and improve the overall health and quality of life in Louisiana. For more information visit http://www.tobaccofreeliving.org. To find out more about the dangers of secondhand smoke and show your support for a 100-percent smoke-free Louisiana, visit http://www.letsbetotallyclear.org.
About the Louisiana Cancer Research Consortium (LCRC)
The Louisiana Cancer Research Consortium of New Orleans provides a structure in which Tulane University Health Sciences Center and Louisiana State University Health Sciences Center - the state's two leading medical research institutions - will work together and coordinate cancer research development in preparation for recognition as a National Cancer Institute (NCI)- Designated Cancer Center. The consortium is funded through five cents of the tobacco excise tax, three cents to fund infrastructure and cancer research program development for the new Consortium and two cents for tobacco control and prevention programs. Conservative estimates indicate that approximately $10 million per year will be generated from this revenue source. For more information, visit http://www.lcrc.info
About the Louisiana Public Health Institute (LPHI)
Founded in 1997, The Louisiana Public Health Institute's mission is to promote and improve the health and quality of life in Louisiana through public-private partnering at the community, parish and state levels. By fostering collaborative endeavors in the areas of health information, public policy, applied research, and community capacity enhancement, LPHI works to develop community-oriented solutions that improve the health of the Louisiana population. For more information, visit http://www.lphi.org.
###