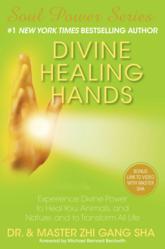 Heal and transform the soul first; then healing and transformation of every aspect of life will follow. -- Dr Zhi Gang Sha
New York, NY (PRWEB) October 04, 2012
Dr. Zhi Gang Sha's new book debuts at #5 on the New York Times Bestseller List this week for his much anticipated tenth book in the Soul Power Series DIVINE HEALING HANDS: Experience Divine Power to Heal You, Animals, and Nature, and to Transform All Life (Atria Books; $29.95; September 11, 2012). With a first printing of 80,000 copies, and less than 3 weeks on sale, Divine Healing Hands lands on the New York Times Bestseller List after securing the #1 spot on Barnes & Noble bestseller list and the #2 ranking on the Amazon bestseller list. In addition, the book held #1 Amazon rankings in three categories: Spirituality, New Age and Alternative Medicine.
In this groundbreaking book, Dr. Sha focuses on how Soul Power can transform all individuals in every aspect of life; health, finances, relationships, emotional blockages, etc. Soul healing is an ancient teaching that heals all humanity including animals. Each copy of Divine Healing Hands is its own healing tool that is pre-programmed by Dr. Sha to offer 20 Divine Healing Hands blessings to each recipient. Just as energy can be sent remotely by qualified healers, Master Sha has downloaded healings into this book so that every reader can experience the soul healing first-hand.
In a time when more people are looking to answers to life's questions, Dr. Sha is proving to be a popular choice. New York Times bestselling author, Divine channel and the grandmaster of many ancient Chinese disciplines, Dr. and Master Zhi Gang Sha teaches a universal Tao principle that reincarnation happens to everything. He was trained as a conventional medical doctor and a doctor of traditional Chinese medicine. The founder of the Institute of Soul Healing and Enlightenment™ and the Love Peace Harmony Movement™, Master Sha is a grandmaster of many ancient disciplines, including tai chi, qigong, feng shui, and the I Ching.
Master Sha is also an expert in the most advanced cellular healing science now occurring in China. In the West, he is involved in breakthrough research on the effects of spirit on the human system. Dr. Sha was named Qigong Master of the Year at the Fifth World Congress on Qigong. In 2006, he was awarded the Martin Luther King, Jr. Commemorative Commission Award for his humanitarian efforts.
As the author of the powerful Soul Power Series, which includes Tao I, Divine Transformation, Tao II, The Power of Soul, Soul Wisdom, Soul Communication and Tao Song & Tao Dance, Dr. Sha has already revealed soul secrets and has taught soul wisdom and practical soul techniques to countless readers and close to 100,000 dedicated followers around the world. Dr. Sha maintains that the power of the soul can heal, prevent illness, rejuvenate, increase longevity, and transform every aspect of life, including relationships and finances.
In Divine Healing Hands, Dr. Sha explains how:

Divine Love melts all karma blockages and transforms all life
Divine Forgiveness brings inner joy and inner peace to all life
Divine Compassion boosts energy, stamina, vitality and immunity of all life
Divine Light heals, prevents sickness, purifies and rejuvenates the soul, heart, mind and body. Divine Light also transforms relationships and finances of individuals
# # #
Dr. & Master Zhi Gang Sha is a soul leader, a world-renowned soul healer, and a divine channel. He was trained as a conventional medical doctor and a doctor of traditional Chinese medicine. The author of more than 12 books published by Simon & Schuster (Atria Imprint), Dr. Sha's most recent New York Times bestseller is Tao Song & Tao Dance (December, 2011). All of Dr. Sha's Soul Power books, DVDs and CDs, reveal soul secrets, wisdom, knowledge and practical techniques to transform every aspect of life, and are bestsellers throughout the world. Visit Dr. Sha on his website http://www.DrSha.com and receive FREE daily Divine Healing Hands blessings via webcasts, teleconferences and in-person at retreats held throughout the world.
DIVINE HEALING HANDS
Experience Divine Power to Heal You, Animals, and Nature, and to Transform All Life
By Dr. and Master Zhi Gang Sha
Atria Books; On Sale Date: September 11, 2012
ISBN: 9781476714424
Pages: 352/ Price: $29.95/ Price Canadian: $34.99