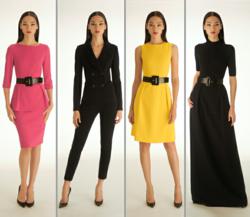 Redefine American glamour.
(PRWEB) October 17, 2012
Rodeo Drive Resale (http://www.shoprdr.com), the world's largest consignment reseller of 100% authentic discount St. John Knits, including St. John Knits pant suits, St. John Knits skirt suits and other designer fashions, shares with luxury lovers around the globe more info on the limited edition Gold Standard Collection from St. John Knits.
"Shop these opulent evening styles that lend indisputable luxury and richness to your wardrobe," Reads the promotion on http://www.discoverstjohn.com. "Redefine American glamour."
On October 10, 2012, the popular high-end fashion label launched a national campaign to promote its Gold Standard Collection, which offers a modern take on a few classic pieces. Throughout the month of October, boutiques in San Francisco, Houston, Las Vegas and Maui will be showcasing the limited edition pieces as part of an event dubbed the "American Icon Celebration."
Founded half a century ago by husband and wife team Robert and Marie Gray, upscale fashion brand St. John Knits has come a long way. What began as a modest merchant of knit suits and dresses quickly exploded into an industry powerhouse. Other collections past and present collections from the world-renowned label include:
1) ST. JOHN BASICS: Because items from the St. John Basics label are considered seasonless, they are never given a retail markdown or put on sale. Their classic jackets, skirts, and pants serve as the building blocks of any St. John lover's wardrobe with pieces that can be dressed up or down and, as mentioned before, work beautifully from one season to the next.
2) ST. JOHN SPORT/YELLOW LABEL: Designed with the younger woman in mind, this label illustrates a modern and casual approach toward clothing for the iconic fashion house. Comprised of coats, novelty, sweaters, jackets, pants, and jeans, the St. John Sport is considered by many to be the brand's most versatile line. Line is now known as Yellow Label.
3) GRIFFITH-GRAY: St. John Knits loyalists may recall the Griffith-Gray Line – a collection of woven sportswear which, like St. John Sport, also targeted a "younger" demographic. Formed in 1994 by Kelly Gray, daughter of St. John Designer Marie Gray, Kelly took on her ambitious venture alongside longtime SJK designer Diane Griffiths. Although no longer in production, the Griffith-Gray line is remembered for its tailored, contemporary appeal.
4) COUTURE: Considered the upscale offering from the St. John label lineup, pieces from their Couture Line are typically the priciest of the bunch, and feature items including jackets, dresses, skirts, tanks tops and more. It is not uncommon to see these pieces adorned with paillettes, Swarovski crystals, and similar embellishments, which only add to its regal charm.
5) ST. JOHN COLLECTION: Seen by many as the standard pieces of St. John Knits. Classic pieces of elegant, ready-to-wear styles with identifiable embellishments such as accents or gold and enamel buttons. The St. John Collection Line is still in production and remains a favorite among many fans of the brand.
6) ST. JOHN EVENING: Skirt suits, long sleeve tops, floral pants, and dresses are just a few items available from the St. John Evening label. Like St. John Basics, many of the items that fall under the St. John Evening umbrella can be worn throughout the year. Classy and elegant, yet less expensive than the Couture Line.
"Women who fell in love with the original St. John can still find past coveted collections at shopRDR.com. On our site, you will also find a well edited selection of newer styles up to 75% off retail," Raya Jaffer, co-founder of shopRDR.com said earlier this year.
Rodeo Drive Resale (shopRDR.com) has built a reputation of providing amazing deals on handbags, clothing and accessories from the top designers of upscale fashion. The company offers a 100% guarantee of authenticity on each item sold, and works daily with a network of clients looking to buy, sell, or for consignment of their luxury goods.
ShopRDR.com loves high-end fashion, and believes finding a high quality, classic piece should be an easy, enjoyable -- and most importantly -- hassle-free shopping experience. For the finest in Louis Vuitton, Chanel, Prada, Gucci, St. John Knits, Christian Louboutin, Tiffany & Co. and more, visit RDR online at http://www.shopRDR.com or call 1-888-697-3725. Also find shopRDR.com's blog at http://blog.shopRDR.com.
Also find shopRDR at:
Blog: blog.shopRDR.com
Facebook: facebook.com/shopRDR
Twitter: twitter.com/shopRDR
YouTube: youtube.com/ shopRDR
Pinterest: pinterest.com/shopRDR
Rodeo Drive Resale (shopRDR.com)
1-888-697-3725
service(at)shopRDR.com