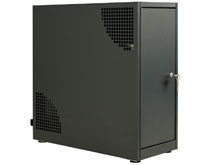 Los Angeles, CA (PRWEB) October 16, 2012
VersaTables, the leader in American-made computer furniture, recently announced a new product: the Locking Computer Enclosure. Designed to prevent theft and accidental damage to CPUs, the Locking Computer Enclosure features a high grade steel cage that accommodates computers up to 17" tall, 8" wide, and 20.25" long.
In addition to acting as a visual theft deterrent, the Locking Computer Closure effectively prevents unauthorized access as well. "The closure features a premium grade alloy lock," explains John-Paul Nelson, Director of Business Development at VersaTables. "But for multiple users, it can be upgraded to an electronic lock. That way, more people can have access and the combination can be changed to eliminate access at any time."
Secures CPU from damage and unauthorized access
Constructed of high grade steel
Alloy locking device is upgradeable to electronic lock
Supports
Includes locking security tether
Individually inspected for quality control
The Locking Computer Enclosure also includes a locking security tether for when the enclosure is open but the user needs to get up from his or her desk. "This is ideal for medical facilities that need to keep patient data confidential, or for retailers and offices that keep personal financial information on their computers" says Nelson. "It's also great for areas where there is a high flow of traffic like bullpen areas, dorm rooms, or computer labs. Any place that needs that extra measure of security will benefit from this product." The Locking Computer Enclosure is designed to install directly onto most of the computer tables and desks that VersaTables sells.
The Locking Enclosure isn't the only computer desk accessory VersaTables manufactures. In addition, the company produces high end keyboard drawers and trays, laptop drawers, under-desk storage solutions, wheel kits, printer carts and platforms, and monitor arms. They also sell a wide range of furniture including drafting tables, PACS tables, computer desks, writing desks, classroom tables, executive desks, filing solutions, conference tables, and administrative workstations.
VersaTables is a leading furniture company that manufactures all furniture products in the United States, using only American-based raw-material vendors. VersaTables works with organizations such as the Sustainable Furnishings Council (SFC), U.S. Green Building Council (USGBC), and Business and Institutional Furniture Manufacturer's Association (BIFMA) to consistently maintain the highest standards of sustainability. In addition, all of the furniture and accessories VersaTables sells ships for free in the contiguous U.S.
For more information about VersaTables and its variety of CPU holders, or to browse through the company's line of affordable computer furniture, visit http://www.versatables.com.