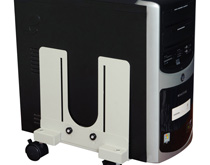 Los Angeles, CA (PRWEB) October 11, 2012
VersaTables, the leader in American-made computer furniture, recently announced a new product: the CPU Floor Stand. Designed to prevent CPUs from accidental damage, the CPU Floor Stand also makes the CPU mobile and easy to move without risk of injury from lifting. "Not everyone can lift a CPU," explains John-Paul Nelson, Director of Business Development at VersaTables. "The CPU Floor stand makes it easy for anyone to roll a CPU to a new location or reconfigure furniture."
The CPU Floor Stand is constructed of high quality steel, and includes four glides and four locking casters for when users want to ensure the CPU stays in place. "This is great for home offices where children are present and could be injured if a CPU tips over," says Nelson. "But it's also great for medical facilities that often move equipment from room to room, or pretty much any work environment that's looking to go beyond ADA guidelines." The CPU Floor Stand fits all CPU cases between 3.5" and 12" wide, and all heights. The metal base allows for air flow and temperature control to prevent overheating.
The CPU Stand isn't the only computer desk accessory VersaTables sells. In addition, the company manufactures high end keyboard drawers and trays, laptop drawers, under-desk storage solutions, wheel kits, printer carts and platforms, and monitor arms. They also sell a wide range of furniture including drafting tables, PACS tables, computer desks, writing desks, classroom tables, executive desks, filing solutions, conference tables, and administrative workstations.
VersaTables is a leading furniture company that manufactures all furniture products in the United States, using only American-based raw-material vendors. VersaTables works with organizations such as the Sustainable Furnishings Council (SFC), U.S. Green Building Council (USGBC), and Business and Institutional Furniture Manufacturer's Association (BIFMA) to consistently maintain the highest standards of sustainability. In addition, all of the furniture and accessories VersaTables sells ships for free in the contiguous U.S.
For more information about VersaTables and its variety of CPU holders, or to browse through the company's line of affordable computer furniture, visit http://www.versatables.com.