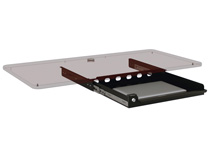 Los Angeles, CA (PRWEB) October 18, 2012
VersaTables, the leader in American-made computer furniture, has extended its line of affordable computer furniture for universities, work environments, and home offices to include two new laptop drawers. The Laptop Drawer and the Laptop Drawer for Under Cross Support are designed to allow laptop users to add a retractable drawer to their desks designed for laptops. "When people think of laptops, they think of mobility," explains John-Paul Nelson, Director of Business Development at VersaTables. "But it's important to use a laptop in a way that's ergonomic and comfortable. If not, users risk repetitive motion injuries like Carpal Tunnel Syndrome. Our laptop drawers do exactly that."
The Laptop Drawer for Under Cross Support offers a maximum efficiency and ergonomic comfort. Constructed of a steel frame, these laptop drawers glide smoothly on ball bearing slides and are constructed of powder-coated 14 gauge American steel surface. "Laptop drawers also give users a place to safely store their laptops and charge them when they're idle," says Nelson. "With more than 50% of Americans relying solely on laptops, this type of accessory is what's needed to be efficient." The laptop drawers from VersaTables come in two colors. They mount to the surface bottom of almost any desk or table and can be removed.
Laptop drawers aren't the only computer desk accessories VersaTables sells. In addition, the company manufactures high end keyboard drawers and trays, CPU holders, under-desk storage solutions, wheel kits, printer carts and platforms, and monitor arms.
VersaTables is a leading furniture company that manufactures all furniture products in the United States, using only American-based raw-material vendors. VersaTables works with organizations such as the Sustainable Furnishings Council (SFC), U.S. Green Building Council (USGBC), and Business and Institutional Furniture Manufacturer's Association (BIFMA) to consistently maintain the highest standards of sustainability. In addition, all of the furniture and accessories VersaTables sells ships for free in the contiguous U.S.
For more information about VersaTables and the laptop drawers, or to browse through the company's line of affordable computer furniture, visit http://www.versatables.com.