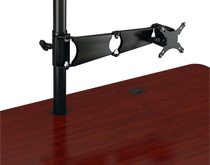 Los Angeles, CA (PRWEB) October 23, 2012
VersaTables, the leader in American-made computer furniture, has extended its line of affordable computer furniture for universities, work environments, and home offices to include an impressive line of adjustable monitor arms. The Mantis Monitor Arm includes eight innovative new pole-mountable monitor arms designed for flat screen monitors. "The Mantis Monitor Arms instantly make a workstation more ergonomic and comfortable," explains John-Paul Nelson, Director of Business Development at VersaTables. "The arms allow you to move the monitor in pretty much any direction you want with the turn of a knob. You can adjust for height, angle, and rotation."
Constructed from recycled American steel and powder-coated with a chip-resistant paint, the Mantis Monitor Arms assemble easily and attach directly to a pole mount. Almost all of the computer desks and tables VersaTables sells come equipped with a grommet hole designed to accommodate the pole mounts. With eight different options, customers can choose between a single, dual, or quad mount and they are designed to be compatible with the company's popular Fusion Cart as well as its line of art tables and drafting tables.
"Taking the monitor off the desk or table and attaching it to a pole gives the user a lot more space to work," says Nelson. "In addition to lifting the monitor to the right height, the surface space of the desk is typically increased by 30% which reduces clutter as well." The Mantis Monitor Arms come in two colors.
VersaTables is a leading furniture company that manufactures all furniture products in the United States, using only American-based raw-material vendors. VersaTables works with organizations such as the Sustainable Furnishings Council (SFC), U.S. Green Building Council (USGBC), and Business and Institutional Furniture Manufacturer's Association (BIFMA) to consistently maintain the highest standards of sustainability. In addition, all of the furniture and accessories VersaTables sells ships for free in the continental U.S.
For more information about VersaTables and the innovative study Carrel, or to browse through the company's line of affordable computer furniture, visit http://www.versatables.com.