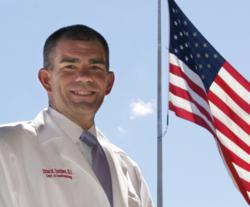 As a physician leader, Dr. Brian Davidson understands the importance and promise of CU's Anschutz Medical Center in Aurora. I believe he will be an excellent addition to the CU Board of Regents
Arvada, Colorado (PRWEB) October 03, 2012
Brian Davidson, 35, is the GOP candidate in Colorado's only statewide race on the 2012 ballot, CU Regent At-Large. He faces incumbent Stephen C. Ludwig, a Democrat from Denver, in the November general election on November 6th, 2012. Davidson's campaign is chaired by the Honorable Hank Brown, former U.S. Senator and CU President.
"I am honored to be endorsed by such accomplished leaders in Colorado, who share a collective passion for higher education and healthcare," Davidson said. "I am also very thankful for the generous support offered to my campaign. We have outraised the incumbent Democrat by two times, $54,000 to $27,000. And, as I approach 14,000 miles campaigning across Colorado, voters continue to show interest in this race while questioning the long term financial sustainability of the CU system," he said.
Quotes from new endorsements:
"As a physician leader, Dr. Brian Davidson understands the importance and promise of CU's Anschutz Medical Center in Aurora. I believe he will be an excellent addition to the CU Board of Regents and a strong advocate for quality education and healthcare in Colorado."
– Steve Hogan, Aurora Mayor
"Brian Davidson will be an excellent CU Regent At-Large. He understands the importance of higher education to Colorado's economy and has a special interest in CU's healthcare system. I met Brian when he served on the Board of Trustees at the University of Northern Colorado as a student member. Brian has the personal character, leadership qualities, and professional experience to serve the university community and people of Colorado very well."

Tom Norton, Greeley Mayor
"I am proud to endorse Brian Davidson for the University of Colorado Board of Regents At-Large seat. Brian realizes and respects the financial obligations and responsibilities of CU. I know he will utilize his background to offer a strong voice for CU students and Colorado citizens. The cost of higher education has placed burdens on families, sidelining the American Dream. This is a struggle Brian is more than qualified to handle responsibly. He possesses all the necessary skills to improve the quality of education at the Aurora, Boulder, Colorado Springs, and Denver campuses."
-Walker Stapleton, Colorado State Treasurer
"Dr. Brian Davidson will do an excellent job representing students, families, and taxpayers at the University of Colorado. I am proud to endorse Brian for CU Regent and hope you will join me in supporting his campaign."

Cory Gardner, U.S. Representative - Colorado's 4th Congressional District
About Brian:
Brian Davidson is a practicing physician and anesthesiologist at the University of Colorado Hospital. In addition to his clinical duties, Davidson serves as both associate department chair for healthcare quality and patient safety and assistant medical director for perioperative services (operating rooms).
He earned his medical degree (M.D.) and completed residency training at the University of Colorado School of Medicine. He also earned a masters in business administration (M.B.A.) from the University of Colorado Denver and a graduate certificate in healthcare quality and patient safety from Regis University in Denver. Davidson completed undergraduate studies at the University of Northern Colorado in Greeley, earning a bachelor of arts in chemistry.
Davidson lives in Jefferson County with his wife, Amy, a practicing high-risk obstetrician, and their newborn son, Tasman. Davidson is a fifth generation Coloradan.
Brian Davidson has served on multiple governing and advisory boards related to both higher education and healthcare. As Colorado's next CU Regent At-large, Davidson will utilize his professional experience to improve our flagship university and healthcare system so that CU can continue to offer a strong, affordable, and quality education.
Brian Davidson has three main campaign goals:
Number one, affordable education for middle class families through cost containment, accountability and the elimination of valueless spending. CU's tuition has risen an average of more than 8% annually over the past five years, putting the squeeze on families and forcing an entire generation of "Buffs" to risk bankrupting their future in order to pay for college. Student debt in the United States now tops $1 trillion, accounting for more debt than consumer credit card and auto loan debt combined. Davidson is committed to putting students' wellbeing first by working to reduce costs, identify valueless spending, and developing innovative and alternative funding sources. Public funding of higher education is an excellent investment and Brian Davidson work to encourage responsible growth in this area.
Number two, Anschutz Medical Campus support and development. Nearly 40% of CU system revenue ($1.1 billion out of $2.8 billion) comes from healthcare services and medical research on the Anschutz Medical Campus, which also employs more than 8,000 individuals. Roughly four-out-of-five Coloradans receive some form of healthcare from a CU graduate. The new University of Colorado Health System may become the largest provider of healthcare in Colorado by 2013. The Board of Regents must be committed to protecting Colorado's pipeline for professional healthcare education, training, and research.
Number three, quality education programs to support American economic competitiveness. Our nation is at risk of falling behind others with regard to a competitive workforce. University education programs must prepare graduates for jobs in the real world, regardless of major or area of study. The economy is global and the United States higher education system must keep pace if we expect our nation to remain exceptional. Davidson views education as a strategic national security issue.
2012 CU Regent At-Large race:
The CU Regent At-Large race is Colorado's only statewide elected office on the ballot in 2012. The race is critical to the future of higher education in Colorado. Brian Davidson knows firsthand how great CU really is from his own personal experience as a three time CU grad.
Dr. Davidson believes that this position and office, elected by citizens across Colorado, is not just responsible for managing taxpayer and tuition dollars at Colorado's flagship university. The position offers a clear opportunity to improve education, provide quality healthcare services, and produce graduates who are prepared to be successful in the Colorado, national, and global economies. Davidson believes, "higher education is a national security issue."
As a taxpayer and fifth generation Coloradan, Brian is concerned about keeping education affordable for students and families. A quality public higher education is one key to achieving the American dream for many Colorado citizens.
"My own dream of becoming a doctor became a reality through Colorado's public higher education system and I will ensure that young Colorado citizens are afforded that same opportunity," he said.
About the CU Board of Regents:
Colorado is one of only four states that elect a higher education governing board. The other states include: Michigan, Nevada and Nebraska. Boards are appointed in other states.
The CU Board of Regents is a nine-member board that governs the University of Colorado system. The nine-members are charged, under the Colorado Constitution, with the general oversight of the university and the exclusive control and direction of all funds and appropriations to the university.
Board members serve six-year terms that are staggered. One member is elected from each of the seven Colorado congressional districts and two members are elected from the state at-large. Regents serve without pay.
In the 2012 general election in Colorado, there are three other CU Regent races on the ballot.
In the 3rd Congressional District CU Regent race, the CU Regent seat is open. The Republican is Glen Gallegos of Grand Junction and the Democrat is Jessica Garrow of Aspen.
The elected incumbent in the 5th Congressional District, CU Regent Republican Kyle Hybl of Colorado Springs, is unopposed.
The 7th Congressional District race is a 2012 special election race. The winner on November 6, 2012 will serve two years until the 2014 election cycle to fulfill the staggered six year terms of the CU Regent board. The incumbent, Democrat Irene Griego of Lakewood, was appointed by Governor John Hickenlooper. CU Regent Griego faces former state lawmaker Republican Mary Dambman of Arvada.
More information available at http://www.davidsonforcuregent.com