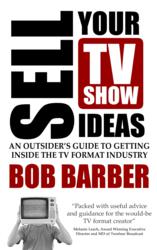 You don't have to be a TV exec to come up with a great TV format. A good idea is a good idea - whoever thinks it up
UK (PRWEB UK) 4 October 2012
In SELL YOUR TV SHOW IDEAS: An Outsider's Guide to Getting Inside the TV Format Industry, author, Bob Barber – a UK chartered surveyor – reveals, step-by-step, how TV industry outsiders just like him can infiltrate the unscripted TV format world, and go on to sell TV show ideas to a market hungry for the next Weakest Link or The Apprentice. Both these hit shows, incidentally, were the brainchildren of ordinary folk outside the TV industry - a GP and a teacher were behind The Weakest Link, and a commander in the UK Parachute Regiment of all people, created The Apprentice.
Coming to the industry just 6 years ago, with absolutely no previous TV experience, Bob has since achieved a 20 episode primetime game-show series in the UK; secured upwards of 40 TV format option deals with TV production companies, distributors and broadcasters in 9 different countries; and signed exclusive 'First-Look' format writing deals with a top UK production company and 2 large European distributors.
Commenting on the book, Bob says, "The reality is, you don't have to be a TV exec to come up with a great TV format. A good idea is a good idea - whoever thinks it up. All you need to know is what to do, and where to go next it. In my book, I show you how."
SELL YOUR TV SHOW IDEAS contains practical advice on topics including: How to check whether your TV show concept is a potential hit. Who to target in the industry to get your idea noticed. How to pitch your ideas like a professional. A guide to the inner workings of the TV format industry. How best to protect your ideas. What to expect from an offer and a contract, and how to maximise your chances of getting paid for your ideas.
Bob continues, "This exciting and potentially profitable industry, contrary to what some think, is accessible not just to TV executives, but to all of us."
SELL YOUR TV SHOW IDEAS: An Outsider's Guide to Getting Inside the TV Format Industry (ISBN: 9781781330074) is available now in paperback from Amazon and all good bookshops and as an ebook on Kindle.