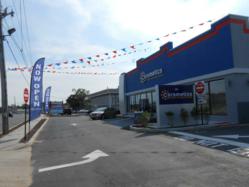 "We specialize in fixing drivable auto body damge 'fast, flawlessly and for less,'" said Carsmetics of Brick, NJ Mangaer Rich Gambone
BRICK, NJ (PRWEB) October 04, 2012
Carsmetics Expert Accident Repair, one of the fastest growing minor auto body repair centers in the country, is now open in the Jersey shore area, and just in time to help local residents as well as beachgoers and summer visitors get accident damage repaired quickly and perfectly. The opening of Carsmetics marks the 4th location in 15 months to expand into New Jersey. The new location opened on July 16, 2012 in a 7400-square-foot facility at 530 Brick Boulevard at the cross street of Route 70 and Brick Boulevard and is conveniently accessible to all residents of Ocean County.
Carsmetics specializes in fixing the 75% of damages that occur in accidents that still leave the car in drivable condition. Prior to Carsmetics, there was no body shop that focused on providing 1-2 day auto body repair services on "drivable" damages that range from cosmetic to functional. Carsmetics repairs everything from damaged panels, bumpers, fenders and more and guarantees that the car's paint color will be matched perfectly. Carsmetics promises that your car will be just like new again and you won't pay a cent until you're completely satisfied.
"We specialize in fixing drivable auto body damage 'fast, flawlessly, and for less,'" said Carsmetics of Brick ,NJ Manager Rich Gambone, "Carsmetics is an ideal repair choice for drivable accident damage, and is a clean and easy to get to repair alternative to auto dealerships and major collision shops. If you can drive it we can fix it and we make the experience pleasant and hassle-free. Our prices are lower, because we don't have the high overhead. We fix the damage in one day, whereas dealerships and collision shops typically have very long delays."
Known for providing a very high-level of customer service, for utilizing advanced technology and top-quality products, and for its highly competitive rates, Carsmetics also provides customers with a free, exact quote in 10 minutes or less. Carsmetics offers a variety of services including cosmetic and functional repairs, fender bender repairs, auto color matching and repainting, and a 100 % satisfaction guarantee.
For more information about Carsmetics or Carsmetics Franchise Opportunities, visit http://www.carsmeticsfranchise.com, or call Carsmetics of Brick at (732) 788-3560
THE CARSMETICS EXPERIENCE
Upon arrival, guests are greeted while pulling their vehicle into the convenient drive‐in inspection area. A professional customer service specialist provides guests with a complimentary fixed price quote within 10 minutes, all while relaxing in a clean, comfortable seating area complete with beverages and Wi-Fi access. DuPont automotive paint products are used for perfect color matching and all repairs are backed by a lifetime warranty for as long as the customer owns the vehicle. Carsmetics repairs are often right at or just below the cost of the guest's insurance deductible. Prior to Carsmetics opening, there were not many high quality, quick turnaround shop options for consumers with drivable damage. To learn more about Carsmetics, visit http://www.carsmetics.com or call Carsmetics of Brick at (732) 788-3560.
ABOUT CARSMETICS
Headquartered in Tampa, Florida, Carsmetics is a DuPont Assurance of Quality repair partner offering customers the combination of streamlined technologies, technical expertise and outstanding customer service to create a high‐value repair. Carsmetics focuses on repairing body damage on vehicles that are still drivable after an accident or a damaging incident. The first Carsmetics retail repair center opened in 1997 in Clearwater, Florida and has grown as the leader of the minor auto body repair industry with 25 locations in Florida, California, Georgia, Massachusetts, New Jersey, Oklahoma, and Pennsylvania. The company is growing nationally via company‐owned and franchised locations throughout major U.S. markets. For Franchise Information contact John Armatas at 855.844.8377