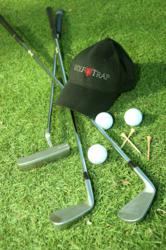 Vienna, Virginia (PRWEB) October 02, 2012
Clean your clubs and shine your spikes in anticipation of the perfect fall outing at Wolf Trap Foundation's 15th Annual Invitational Golf Tournament on Monday, October 15, 2012. The benefit event will be held at The Golf Club at Lansdowne, Virginia, starting at 9:30 a.m. Chaired by Wolf Trap Foundation Board of Directors member Enrico Della Corna, Executive Vice President and Virginia Market Executive, Corporate Banking, PNC, this beloved tournament promises a full day of spirited, competitive fun featuring amateur players from across the D.C. metro region who share a passion for golf and a commitment to furthering Wolf Trap's arts and education programs.
Wolf Trap Foundation will once again host this tournament on the Robert Trent Jones, Jr. Course at The Golf Club at Lansdowne, a first-rate facility that highlights the magnificent scenery of the Virginia countryside. Participants will enjoy three meals throughout the day, including breakfast and a buffet dinner in the Club Ballroom, as well as a boxed luncheon served on the course. The tournament will also include a silent auction. Items may be donated by sending an email to events (at) wolftrap (dot) org.
Proceeds of this event will help support Wolf Trap Foundation's renowned arts and education programs, including the Wolf Trap Institute for Early Learning Through the Arts, a national and international program that uses the performing arts disciplines of drama, music, and movement to help teach literacy, STEM, and other academic and social skills to young learners. For more information about Wolf Trap's education programs, visit http://www.wolftrap.org/Education.aspx.
Sponsorship opportunities are available at a variety of levels. The Wolf Trap Invitational Golf Tournament offers visibility, promotion, and influence for companies seeking high exposure, recognition, entertainment, and branding opportunities. Details on reservations and sponsorship can be accessed through the following link: http://www.wolftrap.org/Find_Performances_and_Events/Event/Golf.aspx.
For all other inquiries, please contact Special Events at (703) 255-4030 or send an email to events (at) wolftrap (dot) org.
###