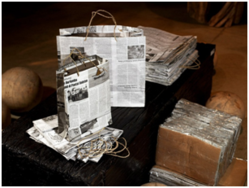 We use these bags daily in our retail showroom. It's great to send customers out the door with a positive story and a bag they tend to save and re-use.
Sonoma, CA (PRWEB) October 02, 2012
Frustrated with the unavoidable waste of packaging materials, in 2008, Dave Allen of Artefact Design and Salvage developed an elegant, if unusual, solution to one aspect of this problem. The idea came to him while he was shopping a local food market in Budakeling, Bali.
Budakeling is a small farming village in the hills of eastern Bali that has fallen on hard times in recent years. Other than traditional farming, there is no local industry to generate income for the villagers, and consequently no means of paying for modern necessities. It is here, with an ambitious young manager named Ketut, that David began producing handmade, shopping bags made out of recycled newspaper. After working the kinks of assembly and production, Ketut engaged and trained the women of the village to produce bags. As many as sixty villagers are now able to earn a living and spend their days socializing in the assembly compound.
The bags are created entirely by hand, using old newspapers gathered from nearby hotels, whitewashing paste, recycled cardboard and banana stalk twine. The bags use no additional resources to ship them, as they are sent within the otherwise empty gaps of the containers filled with other products shipped by Artefact Design & Salvage; a California antique store specializing in decorative objects crafted from architectural salvage. The recycled bags project provides Artefact with 100% recycled shopping bags while at the same time providing a living wage to a group of disadvantaged men and women.
Please see the following video to learn more about recycled newspaper shopping bags: http://www.artefactdesignsalvage.com/pages/Recycled-Bags-Project.html.
About the company:
Artefact Design and Salvage was founded by Dave Allen in 1997. Originally located in Palo Alto, in 2004 Allen moved the company nearer to his home in Sonoma, California. Well respected within the interior design business, Allen has curated a collection of hard to find, rare antique architectural pieces, decorative objects crafted from salvage, large-scale organic forms and exclusive home décor products. AD&S offerings include antique furniture, lighting, mirrors, teak outdoor furniture, garden ornaments and sculpture and various pieces of architectural salvage in California. AD&S produces its own collection of unique gift items and unusual home decorations. During his extensive travels, Allen gathers decorative accessories from the US, Europe and Asia. Closer to home, Allen includes in the collection carefully selected sculpture and paintings from prominent local artists, commissioned pieces and a growing range of pieces designed by Allen himself.