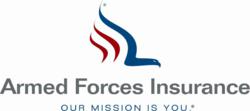 LEAVENWORTH, Kansas (PRWEB) October 09, 2012
Armed Forces Insurance (http://www.afi.org) recently announced its sponsorship of Sky Ball X, an annual fundraising event established by the Fort Worth Airpower Foundation. The proceeds raised by Sky Ball fund only those programs that directly benefit veterans, members of our military, Wounded Warriors, and their families.
This year's event will be held from 7:00-11:00 p.m. on October 27 at the Dallas/Fort Worth International Airport in Fort Worth, Texas. Sky Ball X will include a special tribute to those who have served in Iraq, honoring our nation's military service members, veterans, and their families. Sky Ball honors a branch of service every year. This year will salute the United States Marine Corps with special recognition of the 100th anniversary of Marine Corps Aviation. The fundraising goal for this year's event is $1 million.
"Sky Ball is a wonderful event because it contributes to many organizations that give back to those that have sacrificed so much for our country," said Kurt Seelbach, President and CEO. "Armed Forces Insurance is proud to support Sky Ball and other charities that benefit military families and the communities that we all live in."
In addition to the black tie Gala on Saturday, October 27, this year's event will kick-off on Thursday, October 24, with a Career Expo to facilitate employment, educational, vocational, and other resources to Veterans and their families. On Friday evening, October 25, Gary Sinise and The Lt. Dan Band will play a free concert for over 3,000 veterans and their families. For additional information about Sky Ball X, contact the Fort Worth Airpower Foundation at 817-682-0767, or visit http://www.SkyBallinfo.com.
About Sky Ball
Over the past four years, Sky Ball has raised more than $4.5 million, enabling the Fort Worth Airpower Foundation to contribute to programs that directly support members of all military branches and their families through various contingency funds at the Naval Air Station, Fort Worth, Joint Reserve Base and other programs. Also funded by Sky Ball proceeds are The Gary Sinise Foundation, an organization dedicated to serving the Nation by honoring our defenders, veterans, first responders, their families, and those in need; Heroes on the Water, an activity helping veterans heal through fellowship and fishing; and Snowball Express, a charity that helps children of fallen service members who have died while on active duty since 9/11.
About Armed Forces Insurance
AFI was founded in 1887 by military leaders with a single mission: to protect the property of those who protect our nation. The company provides premium quality, competitively priced property and casualty insurance to military professionals throughout the United States and overseas. AFI understands that its members have unique circumstances and insurance needs, enabling the company to offer a level of personalized service that's unequaled in the industry. For more information, visit the website at http://www.afi.org or call 1-800-495-8234.