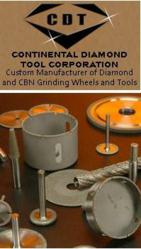 New Haven, IN (PRWEB) October 03, 2012
The IMTS is North America's premier event for manufacturers, showcasing more than 1,900 exhibitors to more than 100,000 visitors. It is held in Chicago every two years and is the world's largest industrial trade show. The show gives professionals from the manufacturing industry the opportunity to view developments in the industry, including machine tools, computers, software, controls, components, processes, and systems. More than 15,000 new products can help improve efficiency, and they can share ideas with leading equipment manufacturers.
At the show, Continental Diamond Tool showcased their best and newest diamond tools, including grinding wheels and super abrasives. CDT also met customers and competitors, viewing new technology and highlighting their newest capabilities. Their products highlighted at the event included various tools and attachments, grinding accessories, saw blades, diamond grinding wheels and abrasive belts, and super abrasive machining systems.
About Continental Diamond Tool Corporation:
CDT is a diamond and tooling manufacturer specializing in quick turnarounds for tooling, both standard and custom. Established in 1973, their technical staff offers years of manufacturing expertise for even the most demanding customers' needs. For more information, please visit cdtusa.net or call (800)443-6629.