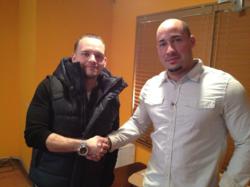 YellowStone's approval was almost instant and required less information than a simple job application.
New York, New York (PRWEB) October 02, 2012
The Manhattan-based merchant cash advance firm, YellowStone Capital, has pulled off an emergency deal to fund South Carolina based company, Sure Load Moving (SME).
Sure Load Moving put a call out to YellowStone Capital last Sunday night when one of their trucks required a repair which would cost over $10,000. A rental to replace the truck was costing $200 per day, so Sure Load Moving's president, Jeremy Goding, had to work quickly for a resolution.
At the time of request, Sure Load Moving was not eligible for a cash advance renewal. Juan Monegro, the YellowStone Capital rep who closed the deal, said: "I gave the merchant my word that I'd help him out even though I knew his business was not eligible for a renewal at the time."
Monegro went on to say: "I didn't know exactly how much I was going to secure for the merchant, but I knew it had to be enough to get his truck back on the road. In the end I managed to get him much more then he had requested."
The funds were disbursed to the merchant by the close of business, less than 24 hours later. President of Sure Load Moving, Jeremy Goding, praised YellowStone's swift response to his request: "YellowStone's approval was almost instant and required less information than a simple job application."
Godin also echoed concerns other business owners have raised about the difficulty SMEs face when it comes to obtaining financing: "Even with annual revenues at well over a million dollars, I find it hard to get loans or advances from my bank. Anything with the bank requires tons of paperwork and at least a week to find out if you can even get the money."
This cash advance is the third that has been issued to Sure Loan Movers by YellowStone Capital. The first cash advance was issued back in June for $8,700, less than half of the most recent advance which totaled $17,770.
The easy access to funds from YellowStone Capital has led to a marked sales increase within this moving business. Monthly revenues have doubled since their first advance in June, from $85,000 to $160,000.-
Godin added: "I am already on my third advance and am sure I will continue using Yellowstone throughout the progression and growth of my business."
The Sure Load Moving website can be found here: http://www.sureloadmoving.com
YellowStone Capital's website can be found here: http://yellowstonecap.com
Juan Monegro
Direct: 1-631-812-0285
jmonegro[AT]Yellowstonecapllc.com