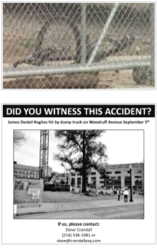 Eyewitnesses can be critical in bicycle accident cases where there are often contradictory reports as to who was at fault.
Newport Beach, CA (PRWEB) October 02, 2012
Daniel Hughes, 18, was injured in a bike accident after a dump truck struck his bicycle on Sept. 5. According to a 10TV news report on Sept. 26, Hughes was struck near 146 Woodruff Ave. in Columbus as a dump truck was entering or leaving a construction site. Hughes is a freshman honors engineering student. The article states that the teenager lost his entire leg up to his pelvis. The victim's family is still trying to find witnesses to the crash by placing an advertisement in the university's campus newspaper. Hughes remains in critical condition, 10TV reports.
According to the National Highway Traffic Safety Administration (NHTSA), in 2009, 630 bicyclists were killed and 51,000 were injured in bicycle accidents nationwide. Bicyclists accounted for 2 percent of all traffic accident fatalities and made up 2 percent of all people injured in traffic crashes in 2009. Also, according to the NHTSA report, a majority of bicycle accident deaths (about 70 percent) occurred in urban areas.
"My heart goes out to Daniel Hughes and his family members for what they are going through at this time," said John Bisnar, founder of the Bisnar | Chase personal injury law firm. "This young victim, who has lost his leg and still remains in critical condition, will be in my thoughts and prayers."
Bisnar says eyewitnesses can be critical in bicycle accident cases where there are often contradictory reports as to who was at fault. "It is important that the driver and his or her employer be identified in such cases. The next step is to determine whether the driver was negligent when he or she struck the bicyclist while entering or exiting the construction site. Did the construction company or the city create a hazardous condition at that location for bicyclists, pedestrians and others using the roadway? These are some of the issues that must be addressed."
As a bicycle accident lawyer who has represented victims of catastrophic injuries, Bisnar says it is important that victims in such cases receive proper medical care and treatment. "It is also important that they carefully document all of their expenses and losses," he says. "Victims need an experienced personal injury lawyer on their side who will fight for fair compensation and help hold the negligent parties accountable."
About Bisnar | Chase
The Orange County bike accident attorneys of Bisnar | Chase represent victims of bicycle accidents, car collisions, defective products, dangerous roadways, and many other personal injuries. The firm has been featured on a number of popular media outlets including Fox, NBC, and ABC and has developed a reputation for providing proven results from trusted professionals. Since 1978, Bisnar | Chase has recovered millions of dollars for victims of auto accidents and victims of dangerously designed and/or maintained roadways.
For more information, call 800-561-4831 or visit http://www.orange-county-lawyers.com for a free consultation.
Sources: http://www.10tv.com/content/stories/2012/09/26/ohio-state-university-student-struck-by-dump-truck-loses-leg.html