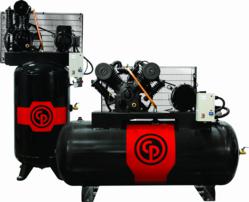 The RCP-C Iron Series provides users with ... a price and overall cost of ownership that meets their budget.
Rock Hill, SC (PRWEB) October 02, 2012
Chicago Pneumatic, a global leader in portable and stationary air compressor technology, today introduced the new RCP-C Iron Series reciprocating air compressors with all-cast iron design pumps designed to provide users with durability and reliable everyday performance.
The RCP-C Iron Series is engineered in a variety of configurations for users in the automotive, construction, light industrial and general maintenance markets. Models include simplex compressor packages with 5, 7.5 and 10 hp and duplex compressor packages with 20 hp, producing a maximum 175 psi and up to 35 cfm (at 100 psi) for simplex models and 70 cfm (at 100 psi) for duplex models.
SEMA Show attendees can get an up-close look and learn more about the new RCP-C Iron Series and Chicago Pneumatic's line of air compressors and performance air tools at booth #10100. The SEMA Show runs Oct. 30-Nov. 2 at the Las Vegas Convention Center.
At the heart of the RCP-C Iron Series air compressor is the revolutionary all-cast iron pump with automotive-style rod bearings, wrist pins and concentric ring valves. The pump is splash-lubricated and displays deep-finned coolers designed to lower operating temperature and conserve energy. The RCP-C Iron Series' rugged construction lengthens service intervals for the compressor, lowering the cost of ownership and extending the compressor's lifecycle.
"The Chicago Pneumatic RCP-C Iron Series delivers a consistent compressed air supply reliably and efficiently, day in and day out, enabling users to worry about more important things in their business," said Ellen Steck, President, Chicago Pneumatic. "We designed this compressor with top-line engineering and all-cast iron construction to meet users everyday needs, no matter how rugged or challenging. The RCP-C Iron Series is built for your business."
Standard features on RCP-C Iron Series models include start/stop pressure switch control, ASME-certified receiver tank and safety valves, fully enclosed belt guard, magnetic starter and manual tank drain. Receiver tanks are 80 gallons (vertical) for the 5 and 7.5 hp simplex models and 120 gallons with horizontal or vertical orientation, depending on the model, for the 10 hp simplex models and 20 hp duplex models.
Chicago Pneumatic also offers RCP-C Iron Series 10 hp premium air compressors, with all standard features plus a low oil-level switch, automatic tank drain and belt guard aftercooler.
RCP-C Iron Series air compressors are backed by a CP Secure 2-year warranty with no contracts or service agreements necessary.
"The RCP-C Iron Series provides users with the quality they count on from Chicago Pneumatic with a price and overall cost of ownership that meets their budget," Steck said.
For more information about the Chicago Pneumatic RCP-C Iron Series air compressors or to find a distributor near you, please visit http://www.cp.com.
About Chicago Pneumatic
Since 1901, the Chicago Pneumatic name has represented high-performance tools and equipment designed for an extensive range of applications. Today, Chicago Pneumatic has a global reach with local customer centers around the world. Chicago Pneumatic tools and air compressors are tailored to the needs of the industrial, vehicle service, and construction markets. Every day, we develop and manufacture new products that are meant not only to meet your demands today, but also tomorrow as well. To learn more about our extensive range of tools, hydraulic attachments, industrial and portable compressors, accessories and workshop equipment, please visit http://www.cp.com.
Editor's Note: Images of the RCP Iron Series and additional Chicago Pneumatic air compressors can be downloaded from the Chicago Pneumatic multimedia gallery.