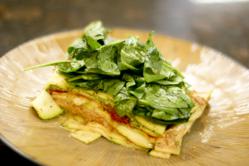 "We've gotten amazing online reviews. And our customers were constantly asking when we'd open more hours. It was time to expand and give our customers what they wanted most—more raw food!" —Co-Owner Sheiva Gourdain
Rockville Centre, NY (PRWEB) October 04, 2012
One of Long Island's few raw food restaurants, Maggie's Raw Love Café, will be celebrating its grand re-opening Saturday, October 20, 2012. The celebration will take place 12-5 pm at the café's newly remodeled and expanded dining room, located in the Blue Firmament Holistic Center in Rockville Centre, NY.
The festivities begin at 12pm with an official ribbon cutting ceremony. Live belly dancing and drum circle performances will entertain guests as they enjoy the café's newly expanded raw food menu. To commemorate the grand re-opening, the first fifty visitors will receive a gift bag with a $5 gift certificate. One lucky winner will receive a $25 gift certificate.
Representing Blue Firmament's seven years in business, entrées will be $7, a 10-50% savings off the regular menu prices. Desserts will be $4. Throughout the day, Blue Firmament Holistic Center will hold discounted fitness classes including yoga ($7), pole dancing ($15), and belly dancing ($7).
In honor of Breast Cancer Awareness Month, Maggie's Raw Love Café is proud to support the Long Island non-profit The Maurer Foundation, which presents breast health workshops in schools, businesses, and community events. During the grand re-opening, the café will donate $1 from the sale of each raw cheese cake to the foundation. The non-profit will also be in attendance, accepting donations and educating guests about healthy eating, healthy lifestyle choices, and breast cancer early detection methods. "We're excited to be part of this fun event," said Maurer Foundation Program Manager Susan Simon. "Raw food is incredibly healthy, and healthy food choices are such a core part of what our organization educates the public about."
According to co-owner Sheiva Gourdain, the expansion has been long overdue. "The café started three and half years ago from a customer suggestion, and has been one of the most popular aspects of Blue Firmament since then," explained Gourdain. "We've gotten amazing online reviews. And our customers were constantly asking when we'd open more hours. It was time to expand and give our customers what they wanted most—more raw food!"
The café's interior has been completely remodeled with new tables, chairs and new paint in terracotta and sage green. The dining room has doubled in size, allowing for a much needed increase in seating capacity. The kitchen has been enlarged and upgraded, as well.
With the expansion, the restaurant's menu of raw entrées and desserts has doubled in size. Popular menu items include several raw lasagna varieties, raw pizza, Sweet Potato Pasta with Puttanesca Sauce, Mock Tuna, and their most popular dish, Magic Kale Salad.
Raw chef, co-owner and restaurant namesake Maggie Fils-aime said, "The expansion is really about introducing Long Island to raw food and all of its incredible health benefits."
Raw food is unprocessed and uncooked food that is never heated over a temperature of 104-118ºF. For most foods, the high levels of heat found in cooking temperatures reduces the levels of enzymes, antioxidants, nutrients and healthy bacteria and microorganisms naturally found in food, therefore reducing its nutritional value. While there are several forms of raw foodism ranging from vegan, to vegetarian, to omnivorous to 100% carnivorous, most raw food diets contain a mixture of raw fruits, vegetables, nuts, seeds, and sprouted legumes and grains. Maggie's Raw Love Café specializes in raw vegan dishes which exclude animal products such as a meat, fish, shellfish, eggs, and dairy products.
In honor of the grand re-opening, Maggie's Raw Love Café sports a new logo combining the imagery of a fork and a heart. "The new logo really symbolizes the love we put into our food—the love for our ingredients and for our wonderful customers. We are thrilled with it. Between the logo and the colors, the café really has a new look," said Gourdain.
The café, formerly only open on the weekend, now boasts permanently expanded week-long hours. The restaurant is open Tuesday and Thursday 12-8pm, Wednesday and Friday 12-6pm, Saturday and Sunday 10am-6pm, and is closed on Mondays.
ABOUT MAGGIE'S RAW LOVE CAFÉ
Maggie's Raw Love Café is a raw vegan restaurant located in Rockville Centre, Long Island, New York. The café, owned by mother and daughter team Sheiva Gourdain and chef Maggie Fils-aime, is part of Blue Firmament Holistic Center, a comprehensive holistic health spa established in 2006. Maggie's Raw Love Café is open Tuesday and Thursday 12-8pm, Wednesday and Friday 12-6pm, Saturday and Sunday 10am-6pm, and is closed on Mondays. For more information, visit http://www.BlueFirmament.com or visit Maggie's Raw Love Café on Facebook.