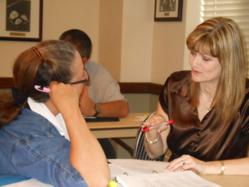 In times when for-profits and non-profits are often competing for the same pot of funding, it is most important to attain the skill of grant writing
Los Angeles, California (PRWEB) October 03, 2012
What do Nonprofits, government agencies, colleges and universities, and K-12 schools all have in common? They all need grants, and grants are not possible without someone who knows how to write a successful grant and how to cultivate those grant maker relationships.
Grant Central USA recognizes that need, now more than ever in this uncertain funding climate, and aims to educate and prepare individuals, nonprofits and agencies alike with the tools necessary to pursue, prepare, and submit successful grant proposals.
This fall, Far Reaching Ministries of Murrieta (FRM), California will become the latest organization to partner with Grant Central USA to offer those interested in becoming a skilled grant writer the means necessary to do so.
The two day workshop will be held on October 10-11 from 9am to 4pm at the FRM at 38615 Calistoga Drive Murrieta, CA 92563.
This two day grant writing certificate program is an interactive workshop designed around the eight steps of the grant writing process. The training is designed to not only show the participants the essential tools needed to be a successful grant writer, but to also allow them to use what they are learning as they go by applying their new found knowledge to real-life simulations.
Such content covered in the training includes what goes into a successful letter of inquiry and grant proposal format, how to research and pin point the right funding applications, shared best practices, do's and don'ts, and how to cultivate grant maker relationships.
"In times when for-profits and non-profits are often competing for the same pot of funding, it is most important to attain the skill of grant writing," says Rodney Walker, President and CEO of Grant Central USA. "Anyone who has a desire to become a skilled and successful grant writer can do so if they are willing to invest in seeking out and finding content rich and interactive training, continuous education, and placing themselves in a network of knowledgeable individuals in the same trade. Grant Central USA's trainings offer just that, and much more," adds Walker.
To become a viable competitor in these uncertain funding times by securing the skills of a successful grant writer, register for a training today at http://www.grantwritingonlinecourse.com/murrieta/.
About the Company
Grant Central USA is a leading provider in the grant writing training industry offering both in-person and online grant writing courses. The company is based in Pasadena, CA and serves individuals and organizations nationwide to do a better job in writing grants that get funded. For more information visit GrantWritingOnlineCourse.com or call 1.888.293.0284. For more information visit GrantCentralUsa.com or call 1.888.293.0284. Experience the next Grant Writing Workshop in Murrieta.