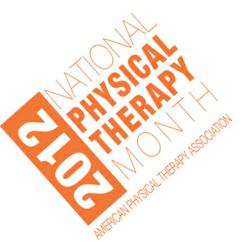 Plano, TX (PRWEB) October 04, 2012
Every October the APTA celebrates National Physical Therapy Month (NPTM), whose primary goal is to raise awareness of the crucial role that physical therapists and physical therapist assistants play in helping people reduce pain, improve their mobility, and live active and healthy lives. The association will also launch their "Fit After 50" campaign in conjunction with NPTM, providing resources and daily tips for therapists working with Baby Boomer patients.
HomeCEUConnection.com is proud to support physical therapists and physical therapist assistants in their ongoing efforts to ensure that Americans live long and healthy lives. Founded by therapists Anne and Brandon Osborn, the provider of online continuing education for rehab professionals nationwide is committed to raising awareness for the profession and will be sharing resources, tips, and articles for physical therapists all month long. HomeCEUConnection.com is also hosting several live, interactive continuing education webinars specifically for physical therapists, including "Functional Testing For The Aging Adult", "Lumbar Spine: Injury Prevention" and "Why Do Patients Fall And What Do I Do". Therapists who purchase any individual webinar or webinar bundle pack during the month of October can use the promo code "NPTM10" to receive and additional discount of 10% off their purchase.
To learn more about National Physical Therapy Month and how physical therapists can raise awareness within their community, please visit the HomeCEUConnection.com blog. Registration for live webinars or other continuing education courses can be completed via the online course catalog. Professionals are urged to register soon using the promo code "NPTM10" to reserve their seats.
About APTA
The American Physical Therapy Association (APTA) is an individual membership professional organization representing more than 80,000 member physical therapists (PTs), physical therapist assistants (PTAs), and students of physical therapy. APTA seeks to improve the health and quality of life of individuals in society by advancing physical therapist practice, education, and research, and by increasing the awareness and understanding of physical therapy's role in the nation's health care system.
About HomeCEUConnection.com
HomeCEUConnection.com specializes in quality online continuing education courses. HomeCEUConnection.com offers CEUs for Physical Therapists, Physical Therapist Assistants, Occupational Therapists, Occupational Therapist Assistants, Athletic Trainers, Speech Language Pathologists, Massage Therapists, and Certified Strength and Conditioning Specialists that are convenient, affordable and user friendly. Visit HomeCEUConnection.com to view our robust continuing education course catalog.