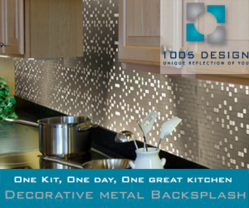 Lima, OH (PRWEB) October 04, 2012
The National Association of Home Builders along with Hanley Wood is sponsoring this year's Remodeling Show. The annual show will be held in Baltimore, Maryland from Wednesday, October 10th to Friday, October 12th. The Remodeling Show is known as the national trade show and training conference for professional builders and remodelers with hundreds of exhibitors in attendance.
The Remodeling Show also features workshops, presentations, and a "Product Hot Spot." The "Product Hot Spot" is a chance for companies in the industry to present their latest and greatest. The new products will be voted on for best in each category: best Green, most Innovative and best New Product. 1005 Design will be featuring their kitchen backsplash product during the "Product Hot Spot" at the Remodeling Show in competition for the most Innovative new product of 2012. The timeless and trending design patterns in copper and stainless steel finishes on recycled aluminum puts 1005 Design backsplashes at the top for innovation. Today's backsplash options are limited to the time consuming installation of tiles or costly installation of stainless steel. The addition of the 1005 Design decorative aluminum panels gives DIYers a unique look, easy installation, and a lower price tag.
1005 Design will also be exhibiting their new backsplash kit at the Remodeling Show. They will be in booth #5626 directly across from Building Performance Zone #1. Visit 1005 Design in booth #5626 for more information on the new way to install a kitchen backsplash. There will also be a chance to enter business cards in a drawing for an iPad 2.
About 1005 Design
1005 Design uses the most recent trends to produce aluminum products for the home. Metal brings a degree of luxury, quality and depth that few other products can provide. We add to this a skilled staff in both designing and screen printing on aluminum. 1005 Design refers to the 5Ds of design to make sure that our products are always a unique reflection of you: Develop, Dream, Differentiate, Decorate and Deliver.
For more information about 1005 Design visit our website at http://www.1005design.com