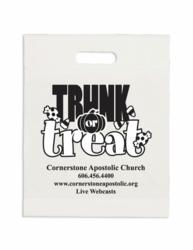 We like being able to provide a wholesome alternative to Halloween and these items are not always easy to find." -Pastor Richard McKinney, Cornerstone Apostolic Church, Phelps, KY
Dallas, TX (PRWEB) October 04, 2012
Halloween now ranks second behind Christmas as the most promoted holiday of the year for businesses, according to Bagwell Promotions, a top promotional products firm. With a change in focus, groups that want to avoid associations with witches and malicious tricks can still take part in the seasonal activities.
"Based on the sales of our 'Trunk or Treat Bags,' a growing number of churches and schools have been holding alternative events rather than celebrating Halloween," notes John Bagwell. "Participants can still dress up, but in accordance with a less scary theme, and the event is held in a convenient, safe parking lot or community venue rather than having children go from home to home."
Fall Festivals celebrate the harvest and the opening of the school year. They can include the costumes, games, contests and the collecting of small treasures so important to the Halloween tradition, but with a more positive sentiment. Trunk or Treat and Fall Festival Bags take the place of the popular Trick or Treat promotional sacks.
Halloween Bags are the most popular promotional items provided by businesses to customers in the weeks before Halloween. More and more groups are choosing to hand out Fall Festival or Trunk or Treat Bags instead. These bags build awareness of the civic organization, local business or police or fire department in the neighborhood.
"We have been buying the Trunk or Treat Bags for several years now," says Pastor Richard McKinney with Cornerstone Apostolic Church in Phelps, KY. "Our Trunk or Treat event even attracts people from outside our church and other organizations have followed our lead. We like being able to provide a wholesome alternative to Halloween and these items are not always easy to find."
More information on Halloween or Fall Festival promotions can be obtained by calling 1-866-281-8830 or on the website.
About Bagwell Promotions:
Bagwell Promotions offers over 500,000 imprinted promotional products from 4,100 suppliers such as coffee mugs, pens, flashlights, magnets, ID bracelets, key chains and an assortment of apparel. In addition to Fall Festival and Trunk or Treat Bags, Bagwell Promotions also offers other items for Halloween and Fall including a Giant Pumpkin that is filled with toys and can be used as a sweepstakes promotion.