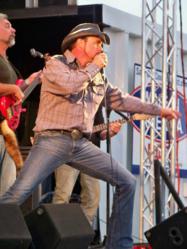 Elma, New York (PRWEB) October 03, 2012
The Made In America Store presents CJ Country's "Made In American Harvest Hoedown" with Lonestar! This October, catch one of the hottest concerts that Western New York has to offer, Lonestar's 20th Anniversary Tour is stopping in Warsaw, New York and Ricky Lee will be the opening act.
Lonestar, a hit Country Music group from 1995, will be headlining the event as part of their 20th Anniversary Reunion Tour and CJ Country has the tickets to get in on the fun! Individuals who are familiar with the Made In America Store know that Ricky Lee has what it takes to get the crowd warmed up!
The Made In America Store is no stranger to the Country Music Concert Scene. Managing their own Nashville Recording Artist, Ricky Lee, and the Made In America Store has sponsored plenty of concert series including Jam in the Valley, Rock the Barn and their own Made In America Tour. To add to the list, the Made In America Store has sponsored events that hosted Gretchen Wilson, Randy Houser, Lynyrd Skynyrd and Justin Moore. Now, fans can catch Ricky Lee open for yet another Country Music Stars, Lonestar.
Fans of the Country Music scene may know Lonestar from their list of hit singles including "Amazed", "I'm Already There" and "Mr. Mom".
Fans can catch Lonestar November 14th at The Stage on Main Street in Warsaw, New York. Tickets are just $20 and go on sale on Tuesday, September 25th.
Catch some 100% American Made CDs, right down to the carbon poly-mite used to manufacture the CDs!
The Made In America Store is the only brick and mortar store that sells 100% made in the United States products from over 350 vendors. Consumers can visit http://www.MadeInAmericaStore.com or call 716-652-4872 to get more information or shop our catalog of over 3,500 items. Both Active Duty Military Personnel and U.S. Military Veterans receive a 10% discount every day. Followers of the "Made In America" movement can keep updated with the Made In America Store through Facebook, Twitter, Google+, Pinterest, FourSquare and even their own blog on Wordpress!