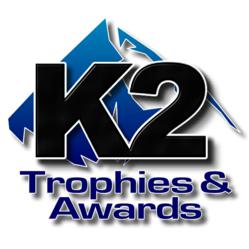 K2 Trophies & Awards is also offering a new design, the Sport Cup Soccer trophy, in their sale inventory.
Richmond, VA (PRWEB) October 23, 2012
K2 Trophies & Awards, a Richmond-based trophy company, is now offering many of their soccer trophies and awards at reduced prices while quantities last. Limited quantities of these trophies and awards can be found on their website under the "Super Sale Trophies" link under the "Sales and Deals" section. The product description for each award indicates the quantity still available and there are a variety of trophies with the green "sale" bubble by their product description that are being offered at reduced prices.
There are a variety of different soccer trophies available, including a 3D Action Kick Soccer Trophy, a 6.5" Gold Shooting stars Soccer trophy, a 6.5" Hi-Top Spinner Soccer trophy, Bobblehead Soccer trophy, 6" Tower Soccer trophy, Frosted Flame Soccer trophy, 8" Shining Star Female and Male Soccer trophies, and many others. K2 Trophies & Awards is also offering a new design, the Sport Cup Soccer trophy, in their sale inventory. "At K2 Trophies & Awards, we strive to offer our customers a variety of awards for every sporting need at the lowest price." Charlie Moss, President of K2 Trophies & Awards, says. "In fact, we offer some of the best pricing you can find on new and closeout trophies."
Prices on close out soccer trophies and awards vary based on style and quantity. To inquire about product availability and other product questions, customers can call the toll free number or inquire online through their online live help chat line. "Customer service is our #1 priority." Moss says. "When we started out ten years ago, we decided that if our customers aren't happy, we aren't happy. That's never changed: We remain committed to our customers and remain committed to keeping prices as low as possible."
About K2 Trophies & Awards
K2 Trophies & Awards, located in Richmond, Virginia, has been providing trophies, awards, medals, and more since 2002, with the goal of satisfying every customer. With a large variety of trophies and other items in stock, as well as a talented team of trophy builders on hand, K2 Trophies and Awards strives to offer the widest variety of trophies for the best price and the fastest shipping. K2 Trophies and Awards provides an entirely secure and encrypted site, and works hard to ensure that each order is fulfilled to the letter before shipment, so that each customer may have the best trophy-buying experience possible. For more information about K2 Trophies and Awards, visit K2Awards.com.