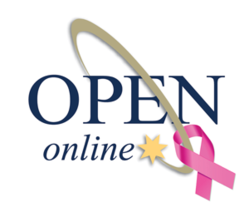 Going pink for the entire month of October gives us an opportunity to show we are committed to the fight
Columbus, OH (PRWEB) October 03, 2012
Breast cancer is the second leading cause of cancer deaths among women in the United States. In this year alone, approximately 39,510 women will die from breast cancer and 226,870 will be diagnosed with the disease. October is National Breast Cancer Awareness Month and OPENonline is joining the fight against this deadly cancer.
In the month of October, during National Breast Cancer Awareness Month, we remember those who have lost their lives to breast cancer and those who continue to fight the battle each and every day.
"In addition to our donation, we have also changed our main websites' branding to pink to help spread awareness of Breast Cancer Awareness Month," stated Heather Browning, Executive Vice President of OPENonline. "Going pink for the entire month of October gives us an opportunity to show we are committed to the fight."
According to the American Cancer Society, the chance of a woman having invasive breast cancer some time during her life is about 1 in 8. For men, the lifetime risk of being diagnosed with breast cancer is about 1 in 1,000. Breast cancer death rates have been going down; this is probably the result of finding the cancer earlier and better treatment. Right now, there are more than 2.9 million breast cancer survivors in the United States.
"We are proud that our employees have taken the initiative to support Breast Cancer Awareness Month," explained Browning. "Many of our employees have been directly affected by this disease, so it hits close to home."
To find out how you can make a difference in the fight against Breast Cancer or learn more about prevention and early detection, visit http://www.nbcam.org/.
About OPENonline
Accredited by the NAPBS® Background Screening Credentialing Council, OPENonline is a leading provider of background screening and investigative solutions. OPENonline offers a broad range of employment screening, drug screening and employment eligibility verification services, including SelectHire®, a one stop solution for employment screening. The company is dedicated to helping customers save time and money by providing background information that is current, accurate and compliant with exceptional customer service. For more information, visit http://www.OPENonline.com or call 1-800-935-6736.