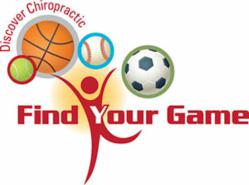 In honor of National Chiropractic Health Month, Dr. Adam Jacobs encourages San Francisco to "Keep their Game". He hopes people will learn to use chiropractic care as a resource for health and wellness.
San Francisco, CA (PRWEB) October 03, 2012
SF Custom Chiropractic, a San Francisco based full service chiropractic practice, today announced it will celebrate National Chiropractic Health Month by offering a complimentary chiropractic examination and treatment to new patients through October. This year, the American Chiropractic Association deemed the theme for National Chiropractic Month, "Find Your Game." For the month of October, Dr. Adam Jacobs hopes to help SF locals "find their game" by educating the public and promoting the benefits of chiropractic care.
The ACA reports, "'Find Your Game' means achieving optimal function at any level of fitness. This includes everyone from athletes to office workers, young and old." The SF Custom Chiropractic team encourages everyone to use this month to resolve to be their personal best whether it's fitness, diet, work performance, etc.
"From 'weekend warriors' to active grandparents, everyone has some type of health and wellness goals," said Dr. Adam Jacobs, Head Doctor and Owner of SF Custom Chiropractic. "The good news is everyday victories are possible with a few healthy lifestyle modifications allowing active individuals to feel their best at all times, regardless of age, occupation or fitness level."
SF Custom Chiropractic helps patients "Find their Game" through chiropractic care including prevention techniques which helps to eliminate pain and improve functionality. As a chiropractic physician, Dr. Jacobs provides patients nutritional advice, lifestyle and ergonomic recommendations as well as natural approaches to managing injuries, aches and pains. For treating injury or pain caused by daily wear and tear, Dr. Jacobs combines traditional chiropractic adjustments with other modalities such as Active Release Technique, laser therapy and deep tissue massage. The combination of these modalities helps to fix any immediate misalignments and work on the soft tissue to help ensure the alignment holds long and to eliminate muscle knots.
The SF Custom Chiropractic team hopes people will learn to use chiropractic care as a natural alternative resource for health and wellness. Contact SF Custom Chiropractic to set up a complimentary chiropractic consultation for the month of October.
About SF Custom Chiropractic:
Based in the Financial District of San Francisco, SF Custom Chiropractic opened in January 2011. Head treating doctor, Dr. Adam Jacobs received his doctorate from Palmer West College of Chiropractic (known for being the leader of sports chiropractic). Dr. Jacobs is a Certified Chiropractic Sports Practitioner and has his full body master's degree and long nerve entrapment certification in Active Release Technique. For more information, visit http://www.sfcustomchiro.com/ or follow us on Twitter @SFCustomChiro.