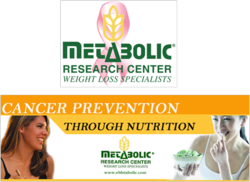 Jacksonville, FL (PRWEB) October 03, 2012
October is Breast Cancer Awareness Month, and Metabolic Research Center has started the THINK PINK project to make women aware that prevention is the Key! Metabolic Research Center's weight loss programs follow ALL eight guidelines for cancer prevention.
Cancer Research Experts Recommend:

Be as lean as possible (ideally 21-23 BMI)
Be physically active for at least 30 minutes a day
Avoid sugary drinks. Limit consumption of energy dense foods
Eat a variety of vegetables, fruits, whole grains and legumes
Limit red meat consumption and avoid processed meals
Limit alcohol intake
Limit salt consumption
Aim to meet nutritional needs through diet
(Source: American Institute for Cancer Research/World Cancer Research Fund)
How to reduce breast cancer risk
One of the first steps in protecting the health of womens breasts is to recognize the symptoms and risk factors of hormonal imbalance, and take action to reverse them. According to the experts, almost all risk factors associated with breast cancer are directly or indirectly linked to an excess of estrogen that is not sufficiently balanced with natural progesterone in the bodies accustomed way. A growing number of medical experts believe that correcting this fundamental imbalance is at the heart of preventing and treating breast cancer.
STEP 1: Determine the symptoms of imbalance
Many women have unknowingly had hormonal imbalance for years. Signs and symptoms include unwanted weight gain, slow metabolism, belly fat, sugar cravings, sleep disturbances, stress and anxiety.
STEP 2: Use a Hormone Detection Kit to test for hidden imbalances
MRC provides saliva testing through one of the most reputable laboratories in the country to help detect and correct hormone imbalances.
STEP 3: Balance hormones and maintain a healthy weight to beat breast cancer
By detecting and correcting hormone imbalances, MRC's Body in Balance program can help people lose and reach their ideal weight.
TO ENTER THE THINK PINK GIVEAWAY:
"LIKE" Metabolic Research Center on http://www.facebook.com/metabolicresearchcenter
Like MRC, follow MRC, leave MRC comments and WIN BIG! In honor of Breast Cancer Awareness Month, MRC is giving away prizes, sharing inspiring survivor stories, linking Metabolic Research Center customers to cutting edge research, sharing tips on cancer prevention and MORE!
ON FACEBOOK, WE'LL BE GIVING AWAY:
"Leaner, Healthier and Ready to Fight" breast cancer awareness t-shirts – awarded weekly
"Prevention is Key" ZRT Hormone Detection Kits – awarded weekly
THE GRAND PRIZE WINNER WILL RECEIVE: 1 ZRT Hormone Detection Kit and $500 IN MRC DOLLARS!!!
Winners will be announced on the Facebook page throughout the month, so be looking for details!
About Metabolic Research Centers: MRC is a holistic weight loss and life management program with 75 locations in 19 states. Developed by board certified physicians and registered dieticians, MRC programs are nutritionally sound, research based and designed for long term weight-loss success.