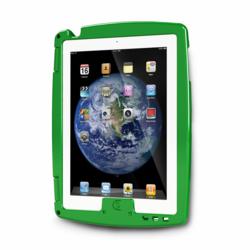 Los Angeles, CA (PRWEB) October 03, 2012
TRTL BOT, designers of eco-functional iPhone and iPad cases, today announced its Cases for Kids charitable program, where for each iPad Shell case purchased, one is donated to a student with a special need.
TRTL BOT has partnered with iTaalk, a charitable organization dedicated to matching families with a special needs child with an iPad complete with all the educational and communication components needed.
As a school psychologist who works with children with special needs, Marissa Gloria, TRTL BOT co-founder, witnessed an increase of teachers, specialists and parents using the iPad as a tool for language development and learning. The Shell was created and designed with features that transform the iPad from a recreational device into an advanced learning tool. The durable, lightweight protective iPad casing features an easy-grip handle that doubles as a multimedia stand, a volume enhancer that redirects sound to the front of the iPad, strategically placed tote or strap eyelets for easy toting, and the innovative child-proof retractable home button lock.
"Marissa and I share a passion for supporting student learners of all abilities and we also wanted to create a way for our TRTL BOT friends to give back to the community. Cases for Kids does just that! It allows our customers to give back to families with special needs children who do not have the resources to purchase an iPad with all of the necessary assistive components themselves," said Peter Gloria, President and CEO, TRTL BOT. "The iPad has become a very important device to families who have a child with autism, but for many the purchase of an iPad with all the components can be too costly. To launch Cases for Kids, we actively sought out organizations focused on pairing families with a child with autism with an iPad fully loaded with the necessary communication and learning tools—and it's a program we'd like to see grow over the coming years."
We're thrilled to have a partner like TRTL BOT to help us complete the iPad packages we donate through our iPad Grant program," said Brooke Olson, found of iTaalk Autism Foundation. "We strive to provide each family with all the tools they'll need to make the technology enhance each child's education needs—the iPad, appropriate applications, stylus pens and now a Shell case to protect the iPad."
The iTaalk Autism Foundation has educated thousands of families, service providers and caretakers on the benefits of using interactive technology with children with Autism. Since April 2011, iTaalk has given over 140 iPad devices to children with an Autism diagnosis.
TRTL BOT was created on the principal that all products should come from recycled materials, made in the U.S., and have more than one purpose. Each product has unique functions made to complement the user's lifestyle.
About TRTL BOT
Founded in 2010 TRTL BOT is a line of multifunctional Apple accessories inspired by design, functionality and environmental awareness. TRTL BOT is committed to eco-friendliness, doing more with less, and is proud member of 1% For the Planet. The turtle logo represents ecology, protection, functionality and distinct style, characteristics that are adopted in all TRTL BOT designs and products. For more information, visit http://www.trtlbot.com or http://www.facebook.com/TRTLBOTpage